For the most recent version of these resources, please visit the Research Data Oxford website.
The resources below give a brief introduction to research data management. They are designed for use in induction sessions for graduate students and new researchers – or anywhere that a quick overview of the topic is needed.
If you would like a member of the Research Support team to contribute to an induction session or other event, please email us on researchsupport@it.ox.ac.uk. You are also welcome to make use of these materials, and to adapt them to suit your own purposes.
Why cover research data management at induction sessions?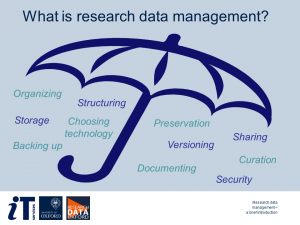 Research data management is an umbrella term covering how information is organized, stored, and cared for, over both the short and longer term.
Adopting good strategies from the start of a project reduces the risk of problems further down the line, saving valuable time and reducing frustration.
However, in the busyness of beginning a research project, it's easy for things to get overlooked or side-lined. Hence it can be helpful to have the important issues flagged up.
Introductory slideshows
Two versions are available – a single slide summary, and a six-slide version.
These presentations are designed to give just the essentials. We are also happy to provide custom presentations or training events covering the subject in more detail – please email us on researchsupport@it.ox.ac.uk to discuss your requirements.
Research data management fact-sheet
This fact-sheet provides a brief introduction to research data management, designed to be printed as a double-sided A4 hand-out. The text is also suitable for inclusion in handbooks or other print resources.
For display on the Web, you may prefer this PDF version, with embedded clickable links instead of visible URLs.
Research Data Oxford postcard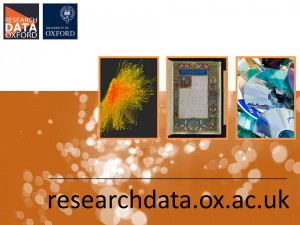 A postcard publicizing the central Research Data Oxford website is also available.
Please email researchdata@ox.ac.uk to request copies.
These resources are maintained by the Research Support team, and were last updated in October 2015. They are based on material initially developed as part of the Jisc-funded DaMaRO Project.