IT Services has released a new version of the WebLearn software, which includes new features and a cleaner, more modern look.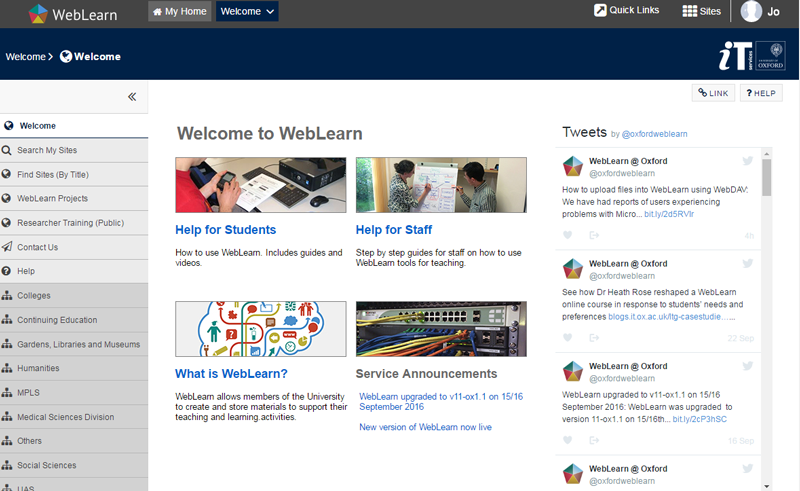 What's changed?
Here are a few of the features that will make it easier for you to use WebLearn.
Better on mobile devices
WebLearn automatically adjusts to the size of your device's screen. If you are using a mobile phone, WebLearn hides the left hand menu and displays menus at the top of the screen, so you can see more of your page content.
Favourite sites
'Sites' is where you can see a list of all the WebLearn sites of which you are a member; click on one of the stars next to your favourite sites and they will always appear on the Favourites bar at the top of every page.
Add your profile photo
You can now add a profile picture (and other information about yourself). This photo will be displayed when you make a posting in the Forums tool. Clicking on your photo (or name) will display options for Preferences, a short Tutorial about WebLearn, and the Log out option.
My Workspace is renamed 'My Home'
My Home is a private area for your own personal use. You can:
store files in your own private Resources area
create HTML files (private or publicly viewable) in Resources
view an integrated Calendar showing entries from all your sites
create your own private Calendar entries
view Announcements from all your sites
Lecture capture
Surveys show that automated lecture capture is the #1 service requested by students at Oxford University. In response to this need, Replay Lecture Capture is a new and evolving service that allows students to review an audio/visual presentation of what was presented in a lecture or seminar, and provides an archive and 'view again' facility for exam preparation and revision.
System messages
WebLearn has a system-wide messaging tool. We will use this to keep you informed about upcoming maintenance so you can plan your work.
More …
More detailed information about the changes to WebLearn is available on the WebLearn update page.
Further help