A new version of WebLearn (version 11-ox9) was released on Tuesday 23 January 2018. There have been a number of improvements especially in the area of anonymous essay submissions.
Here is a breakdown of the enhancements.
Anonymous Submissions / Assignments
A warning is now issued if a file has been uploaded into the Assignment tool but the user hasn't opted to 'Submit'
The Turnitin Originality Report no longer loses anonymity once the due date has passed
Submission sites now have their own section in the Sites Drawer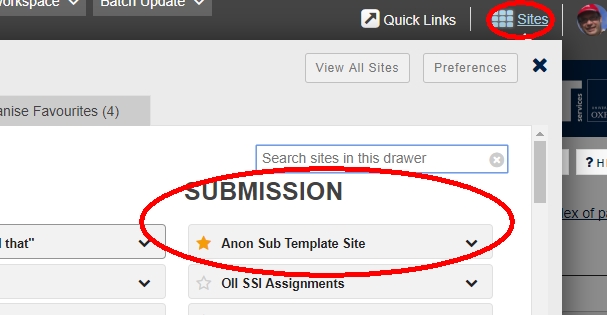 Bulk Creation of Internal Subgroups
This release sees big improvements in the area of bulk creation of sub-groups (this is in Site Info > Manage Subgroups > Bulk Creation). It is possible to define multiple sets of groups and users in a file and have them created all at once. This facility should be particularly useful for Anonymous Submissions.
Visit Site Info and opt to Manage Subgroups.
then

On the next screen you are given the opportunity to upload a CSV file which can be generated by a spreadsheet application such as Excel. The contents of the CSV file can also be pasted into an on-screen textarea.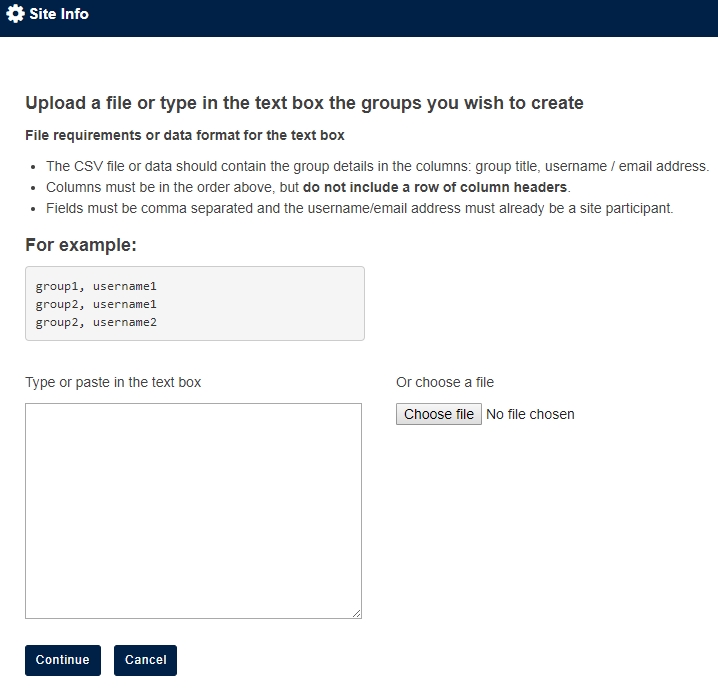 Contact Us Tool
The link to the WebLearn Guidance site has been corrected
If a user tries to visit a site to which they dont have access, the correct contact details are now shown making it much easier to ask to be made a site member
Others
In the Lessons tool, on a public site, hyperlinks inserted via 'add content' now work correctly for non-logged in users
The should no longer be any emails with a return address of postmaster@weblearn.ox.ac.uk
The title of the main panel of the Overview page has been changed from (the meaningless) Site Information Display to the more sensible Welcome!