IT Services is transitioning to a new central support tool to enable teams to remotely support and assist staff. This is replacing the previous support tools that were used, including WebEx and PC Anywhere. Additional functionality that this provides include chat windows and the ability for multiple staff to assist with a support session. Further information on the Bomgar tool is available on the IT Services help pages at https://help.it.ox.ac.uk/help/bomgar.
Who can access my machine?
No member of staff can ever access your screen whilst you are logged in and the machine un-locked, until you agree the connection.
The tools allow two methods of initiating support sessions with you, through a one-time session link and through the pre-installed jump client.
How are remote sessions initiated?
There are two ways that connections can be made.
Single use connection request
Members of IT Services can request a remote session with you via a one-time session, either by asking you to navigate to remotesupport.it.ox.ac.uk or via emailing you a link for you to initiate the session.
Jump Client
Teams directly supporting the Managed Desktop Service can also access machines via the pre-installed Jump Client. This replaces the access via PC Anywhere which has now been disabled. This allows access to machines that are not logged in or that are locked, but does not bypass any Windows security. It also allows visibility of system information, such as installed hardware and software, event logs and services.
If the machine is unlocked and logged in you will get a prompt to accept the connection. If this is not accepted access to your screen is automatically denied.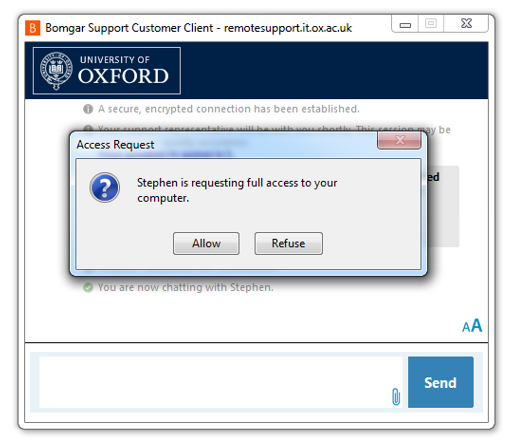 Whenever your screen is being shared a watermark is displayed in the top right hand corner of the screen.
To stop sharing the screen at any time click the stop sharing text in the Customer Client.