Lecture Capture has been used in many universities across the world for several years now. Despite this, its pedagogical value has been hotly contested and there are worries about impact on attendance. Yet as the  IT Service trials have illustrated, many of these fears are unfounded. So far the technology has proved extremely successful – lecturers find it simple, students find it a great tool for revision and support…
MYTH: "The technology is limiting. It's expensive and difficult to use – lecturers don't have time for this."
REALITY: Lecture Capture is straight forward. The software automatically integrates what the lecturer is showing on the computer screen – be this slides or YouTube clips! All a speaker needs to do is hit record.
Centre for Doctoral Training installed software and bought equipment secondhand, meaning installation cost less than £100
All lecturers need to do is press a button – the software automatically integrates all slides and videos used
Editing is very simple, easier than iMovie! Its main purpose is to chop the chitchat from the start and end as students arrive/leave
Not all the media streams have to be used. For example, there doesn't even have to be a video – History of Art merely captures audio and the screen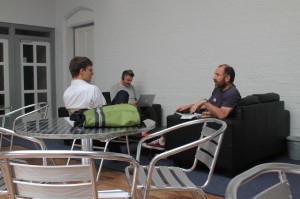 MYTH: "Lecture capture is completely unsuitable for the Humanities and Arts because of copyright laws."
REALITY: Copyright has not been an issue in any of the trials so far. Podcasting has been used for years with minimum issues in this area. This problem is also reduced through the method of access: for lectures, student go through WebLearn, using Single Sign On.
At the Digital Humanities Summer School 2014, only 1 out of 25 presentations couldn't be recorded due to permissions surrounding an image . This wouldn't have been exclusive to lecture capture – no videographer would have been able to record this talk
In History of Art, lecturers are responsible for checking copyright of images. Since the department's origins in 2003, audio files and slideshows have been uploaded separately to WebLearn – it's never been a problem, despite the quantity of images and text quotation used
MYTH: "If lectures are recorded, no one will come!"
REALITY: The truth is that lecture capture has no impact on attendance – studies have shown students who attend the live sessions value the interaction and feel lectures add structure to the day.
In every student survey done in the IT Services trial so far, the most popular by far has been to replay specific sections of the lecture
92% of students in the Physics trial uses the recordings to clarify difficult points
No lecturer reported a drop in attendance, even though students were fully aware
History of Art has used recordings for years – it's normalised and students come to study with the expectation of having lecturers recorded
For finalists, recorded lectures prove an invaluable revision resource to recap work that may not have been tackled for almost two years – particularly if the lectures series is not being repeated
MYTH: "Lecture capture will radically change what students want from lectures – the whole teaching method will need to change overnight."
REALITY: Lecture Capture is meant as a supplement, not a replacement.
88% of students in the History of Art trial wanted live sessions, recordings and online resources (such as handouts)
80% of students in the Physics trial wanted the exact same material covered in both recordings and live sessions
Only one students of all those surveyed expressed an interest in 'Flipped Classroom'
In all surveys, more than half of respondents expressed an interest in watching lectures given by other faculties and departments