This is off my usual subject matter but I'm so excited by this amazing little computer that I had to write something about it.
One of the project's developers, Alan Mycroft, very kindly came over from Cambridge with a real live Raspberry Pi to tell us all about it and what it's capable of doing. Quite frankly it's an astonishing development and I can't wait to start tinkering with one myself.
For a start the whole thing fits on a credit-card-sized footprint. The tiny central processor is dwarfed by the components around it, belying  its impressive capabilities. It's a Broadcom 'System on a Chip' processor that neatly sandwiches processor, video GPU and 256MB of RAM in one tiny central bundle. It's actually a Broadcom BCM2835, comprising an ARM1176JZFS with floating point capability, running at 700MHz. It was apparently originally intended for the set-top box market.
This makes it very approximately equivalent to a 300MHz Pentium 2 – not very exciting by modern standards – but the graphics capability part of that sandwich is bang up to date. It's a separate Videocore 4 GPU, capable of Bluray quality playback, using H.264 at 40MBits/s.
In other words, Broadcom's target market of set-top-box manufacturers, with their demand for 1080p  high definition video, have led to this chip having the ability to cope with that without breaking into a sweat.
We saw it running a film at this quality – seamlessly – and also saw it rendering Rightmark's Samurai warrior OpenGL ES benchmark, on the fly, at breathtaking quality and very impressive speed. A brand new desktop PC wouldn't disgrace itself putting in a performance like that.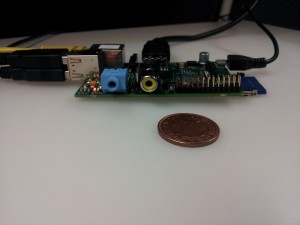 Video is outputted via HDMI – which can of course also transmit sound – but since this is targeted at the education market, where HD-ready kit isn't quite so readily available, there is still an old-school option of composite video and audio out. There's a 2p coin there too to help get a feel for just how small this thing really is.
The board runs off a 5v input – it uses a mini USB adapter – which means that many mobile phone chargers will power it but there are plenty of other options to get such a modest voltage. I gather it will still run even on lower voltages – such as the 4.5v output from three AA batteries. The 1w demand of the CPU is typical of many electronic devices on standby…
I'm thinking I would like to experiment with powering one from a solar panel or putting the Raspberry's board inside the case of a wind-up clockwork radio. The boring option is of course to use a USB output from a monitor.
The truly wonderful thing about this amazing computer is that it's so cheap that you could realistically deploy them in places where you'd not normally want to risk an expensive device. And because it boots from an SD card if you 'brick' the unit you can simply swap the SD card and re-insert the power cable to restore it. Incidentally the SD card being used to demo the unit was a fairly modest mid-range class 4 card  – which gave ample performance for a demo of it running Linux – but it's clear that using a class 10 card would improve paging performance and the screen redrawing (which is currently bitmapped rather than handed over to the GPU). This also suggests that there's potential for a significant hike in performance on a device that's already impressive in bang per buck.

Update: the video from the OUCS session on the Pi can be found here