[Update 8 February 2021: The Turnitin staff support site has been moved from WebLearn to Canvas: Plagiarism awareness for staff. The same information may be found in the new site.]
The Turnitin staff support site (in WebLearn) includes a set of frequently asked questions, which may be useful for staff to refer to. Examples include the following questions: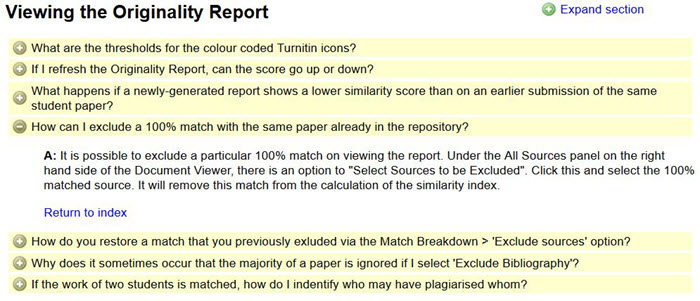 Consider joining the Oxford Turnitin User Group, which includes a mailing list:
tii-community@weblearn.ox.ac.uk. You may use this email address to communicate with everyone in the site (currently 218 members). Click on Site Members to see a list of all the people enrolled in the site. The site (and hence the mailing list) is accessible only by these site members. An Oxford staff member may join the site (you will be prompted to join if not already a member); and any member may leave the site at any time (go to Site Info and click 'Unjoin'). We hope to initiate some discussion on the mailing list, so please feel free to post any items about the use of Turnitin at Oxford University.
Contact the central team if you have any questions: turnitin@it.ox.ac.uk