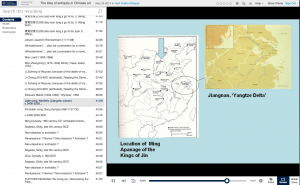 Following investigations in 2013, the technology currently being trialled is Panopto. Panopoto is one of various 'lecture capture' software programmes that enables a lecturer to easily record their lecture, either during a live session, or from his or her desk. In the Oxford trial, the recorded lectures are made available to students via WebLearn, the institutional VLE. Panopto gives the presenter the ability to create a video combining various media streams, including audio, slideshows and visual recordings. There is the potential to upload existing recordings, thus creating a resource rich archive that is easily accessible and usable.
Lecture capture lends itself to a range of subject areas. The ability to show other webpages and videos is ideal for lectures needing to demonstrate experiments that can only be carried out safely in a lab; the option to record. There is even the option to upload PDFs – ideal for hand-outs. Furthermore, the option to watch in high-resolution means students can choose what to focus on, whether this is the image of a manuscript on a slideshow or a blackboard of differentiation during a physics lecture. Furthermore, the 'Notes' function allows students to privately annotate; 'Comment' displays thoughts for public discussion and debate.
Who is doing it within Oxford?
Department of Physics
Saïd Business School
English Faculty
History of Art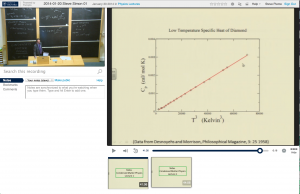 There are two main search functions within Panopto. The first allows the user to search through the text from uploaded slides. The second is based upon Panopto's automated speech-to-text translation, allowing the user to find particular phrases. Recent studies as part of other projects within the IT Service revealed that this option is accurate 70% of the time, and as it is an area constantly under development, it could prove a particularly powerful aid for revision, students with disabilities or whose first language is not English by allowing the option to re-listen to specific sections for comprehension and clarification.
The end goal is to have most of the lectures recorded automatically using off-site controls, with camera and microphone set up permanently, managed by each departments IT and AV staff.  There is a real potential to expand the successful team collaboration that has worked well on past projects such as the podcasting service.
A formal pilot project will be launched during 2015, to explore the limitations and benefits of the technology by recruiting a range of departments that have differing needs.
The major benefit of Panopto is speed and ease of use. What takes a full camera crew most of a day to do can be achieved in less than an hour. Minimum training is required for the lecturer; and the ability to edit recorded lectures offers a chance to learn new skills and ensure that any possibly contentious parts of the recording can be deleted before it is released.