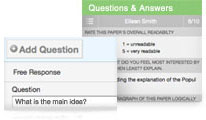 PeerMark is part of the Turnitin suite of software and provides a platform for students to evaluate each other's work.
Some of the features of PeerMark include:
When setting up a PeerMark assignment, options can be selected to allocate students to pairs or groups for marking each other's papers.
Instructors can create a set of free response and/or scale questions to guide students as they review their peer's papers.
Instructors see the student reviews displayed beside each paper.
PeerMark allows for saving and sharing peer assessment questions. 
Instructors have fine grained control over who will assess which paper.
Useful links:
More information? Contact us at IT Services: turnitin@it.ox.ac.uk