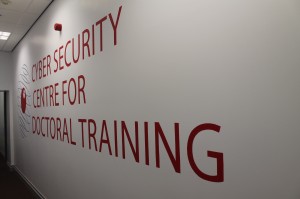 Five days a week, two cameras and around eight hours of footage generated per session: the CDT of Oxford University is a pioneer when it comes to the use of Lecture Capture. An interdisciplinary department, the CDT's need for Lecture Capture arose after receiving funding with the condition attached that material had to be made available to the public.
 This lead to an initial ad hoc system created very quickly. The data produced by this, however, filled a server in just a term: a new solution was needed. And fast. This was when the CDT Team joined Lecture Capture. Panopto's cloud hosting was the perfect solution to the lack of storage, and the files were significantly smaller, as well as requiring less editing and so, almost overnight, the need for intensive manpower was reduced.
The CDT Team moved from just capturing the lecture sessions to also recording seminars, and then to 'Deep Dive' sessions – from anywhere, at any time, anyone can discover what keeps Sophos IT Security awake at night. Lecture Capture also proved itself as an invaluable asset in the case of Disabilty as the ability to re-watch lectures greatly enhanced understanding, allowing for improved engagement.
Lecture Capture completely revolutionized the teaching of one module on Presentation Skills. Part of the bespoke program, this module aimed to improve student's confidence in talking about their work. Each student's speech was recorded, then used as a starting point for discussion when feedback was given. The success of this new method of teaching lead to Cyber Security CDT Team being awarded an OXTalent award in Use of WebLearn to Support a Course or Programme of Study
The CDT Department plans to continue recording lectures into the future and may look into exploring Panopto's archiving options.
Find out more at about OXTalent at:
https://weblearn.ox.ac.uk/access/content/group/info/guidance/oxtalent.html