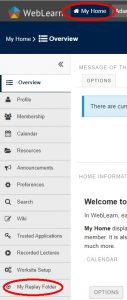 (Copy of Adam Marshall's post to the WebLearn blog)
The recent WebLearn upgrade added a new link entitled "My Replay Folder" to every Oxford SSO user's Home area ("My Home").
When clicked this link will open a new browser tab displaying a personal folder in Panopto called "My Folder".
By default, this folder is private and can be used for storing personal media recordings (video or audio); however, individual recordings can be moved, copied, shared with others or be made public.
Panopto have made this video explaining how to use your My Folder.
For more information: