I've just finished my first year studying English and French at St Anne's College, Oxford. Back in April , when I first became aware that the 'Long Vacation' really was over 3 months long and I definitely needed something more productive to do than play MarioKart, I received an e-mail advertising IT Internships, particularly for Humanities and Arts students. I had worked as a conference steward in the previous vacation and during term I spent a lot of time helping out as an Ambassador at Access events. I felt the internship was a chance to do something different. So despite being convinced that my chances were very low, I applied. Then came the interview, and finally I received, to my surprise, the offer of the place.
Roughly 4 months later, I arrived in reception, very nervous. And 8 really wonderful weeks on from that, I'm feeling quite sad that the whole experience is coming to a conclusion.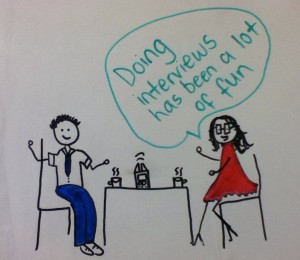 What have I been doing?
Running this blog. Initially it wasn't a planned outcome, and my manager suggested in my second week setting it up. I quickly found it to be an excellent place to document everything I was up to, and also as a way of keeping writing (during term I scribble away for the Drama Section of the OxStu newspaper)
Interviewing. I grab a Roland (the affectionate nickname given to a fairly sophisticated recorder than bears an uncanny resemblance to a Taser), hop on my bike and zip to various departments to chat to those about their experience with Panopto and what they plan to do next
Looking at and analysing responses to student surveys
Producing case studies. I write two versions. The first is detailed technical report for IT Services, including everything from which cables didn't to work to which operating system gives the best recording. The other is 2-sided PDF for public consumption that summarises what the 'Lessons Learnt.' I then upload these to WebLearn.
Compiling a list of 'Top Tips'. One for ourselves using data and comments from other universities, and one for new departments to help them get on-board with Lecture Capture easily and smoothly
Meeting with OUSU Academic Representatives to discuss how Lecture Capture fits with their vision
What have I learnt?
I can fully appreciate now why people recommend so much doing an internship – I've learnt a lot about myself and been surprised at what I can do. I've produced 8 case studies in total now: the Department of Physics, the conference of Digital Humanities at Radcliffe Library, the conference on presentation skills at Egrove Park, the Centre for Doctoral Training, the English Faculty, the History of Art Department, the Said Business School and William James' 'Podules' for Medical Sciences Division.
I think one of the things that surprised me most about the intern experience was just the level of independence. I've been completely free to schedule meetings with relevant departments, design my own snapshots, take my own pictures, conduct and present research as I see fit… At first it was a bit scary, but now I feel I've become much more confident and it's been great.
One last concluding thought…..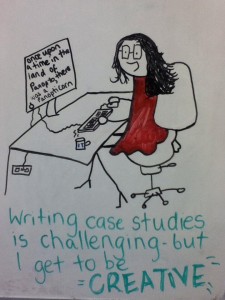 For me, though, there's one thing that has made this internship really special. The people I work with everyday here at IT Services are truly exceptional. Everyone has been so willing to help and so friendly – it's been a great experience. The other interns are without doubt some of the most brilliant and inspiring people I've ever met – it's been an absolute ball to work with such talent (and honourable mention to the long suffering Patrick, who shared my office, and painstakingly taught me how to use Photoshop and explained the Mac keyboard).
In our first week, we were advised to take all the opportunities presented and to metaphorically "squeeze the orange." I'd like to think I've done just that, developing and honing new skills, all while having a ridiculous amount of fun.