Learning technologists from Academic IT Services participate in the Enhancing Teaching Programme offered to early career academics and teaching staff by the Oxford Learning Institute. We present sessions on Replay Lecture Capture; the flipped classroom; and tools and processes for peer assessment.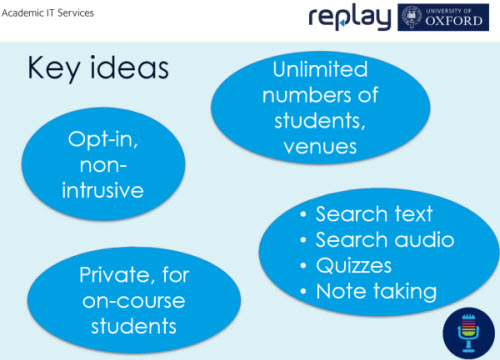 During the session on 23 June 2017, we discussed with participants some novel ways to use the Replay lecture capture service, which we summarise here:
Student-produced recordings as part of an assessment portfolio: Students may use the centrally-provided Replay service to make their own recordings (which may be audio only, audio + slides, or video, audio + slides) as part of their assessment activities. They need to be provided with the 'access' (student) role in a relevant WebLearn site (with the Recorded Lectures tool added), and have downloaded and installed the Panopto software in advance on their computer.
Audio blogs for language learning: Provide the setup for your students as described above. Encourage them to make audio recordings in the foreign language they are learning, which can then be listened to by the other students and discussed or evaluated during the face-to-face class. A staff member with the 'contribute' role would need to review the recordings and move them into the main folder for sharing with all the site members (if desired).
Record your specialist lecture: If you are team teaching on a course, and you may be away on leave when it comes to the time for your live lecture, record it in advance. Students can then watch this lecture in their own time, and it does not fall as an extra responsibility on your colleagues to have to deliver your specialist lecture on your behalf.
Record a presentation given in your department by a guest lecturer: If your department runs a series of guest lectures for staff and students, record these lectures and make the (interactive) recordings available in WebLearn, and/or export the static .mp4 files and put the links on your website for unrestricted access.
More information:
Contact us: replay@it.ox.ac.uk