Last year Sysdev were given a Lego Star Wars advent calendar by a long-standing colleague and friend, who sadly passed away shortly after Christmas.  However, in memory of him, and because the team enjoyed the process, we have acquired another advent calendar this year.
Again, we will be opening a door every day, building the model and adding a picture to the blog.  Please note that practicalities at weekends may mean that some additions won't appear until the following working day.
1st December (Michael) – R5-F7 is ready to help pilot us through a busy month
2nd December (Peter) – Look out, Count Dooku's near in his Solar Sailer!
3rd December (Nigel) – A droid crosses the biscuit-strewn festive landscape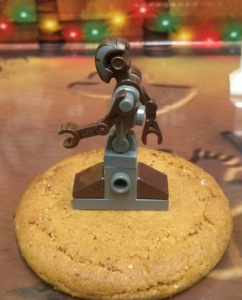 4th December (Dave S) zzooooooom  Bit of a prang on the port nacelle
5th December (Dave H) – Some turbulence ahead for a cloud car
6th December (Dameon) – The look on this forest trooper clearly says "It's past 5 already, I should be in the Cantina with a pint of Corellian Ale by now"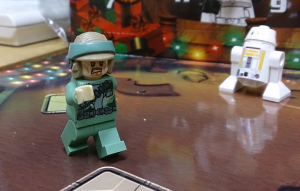 7th December (Lyn) –  At least the guns look safe from being stolen by enemies
8th December (Dave P) – to the rescue?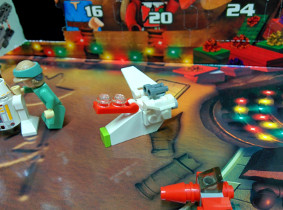 9th December (Dom)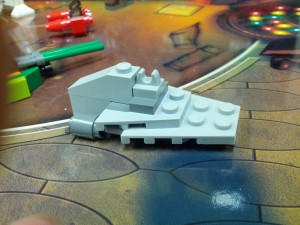 10th December (Julian) – the Stormtrooper decides to relieve some of his stress by demonstrating his skills on the Cosmic Jet Ski, much to the amazement of the onlooking crowd. How he misses the simple days back at the beach in Narrabeen before he became an elite soldier of the empire.
11th December (Kristian) – small vehicle or giant ant?
12th December (Nigel) – it's a republic dropship, dropping the kids off
13th December (PeterG) – Battle droid!
15th December (Michael) – "yes, this is the new Nexus 256 tablet, with a droid-compatible touch screen!"
16th December (StuM) – a well-armed traffic cone makes its presence felt.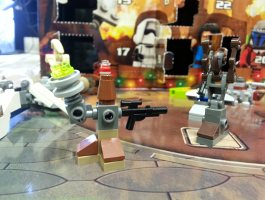 17th December (Dameon) – Ahhh, Nubian eh? A Naboo Star Skiff floats high above the crowd.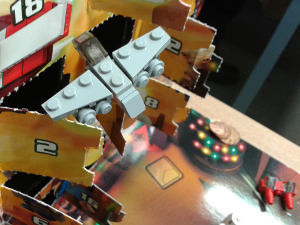 18th December (Dave S) – Not so much "Shall we dance?" as "We shall dance!"
19th December (Dave H) – A dropship hovers over a separatist shuttle
20th December (Dom) – Jedi starfighter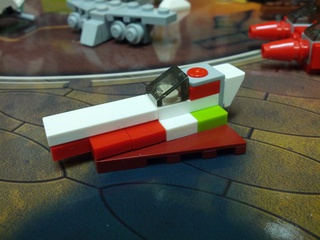 21st December (Dave H) – A transport ship
22nd December (Nigel) – Donny Osmond is escorted away for questioning about crimes against Music
23rd December (Kristian) – A Hi-tech sledge… a present of it's own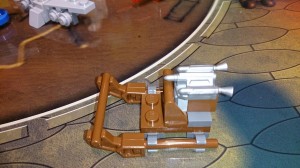 24th December (Julian) – After the overnight storm had died down, everyone was excited to see Santa Fett, bearing gifts and making use of the sledge. It will be a Christmas to remember after all!