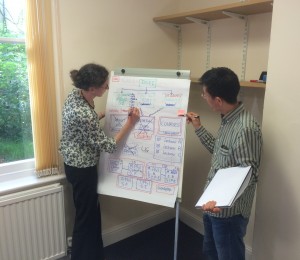 (picture shows Learning Technologist Fawei Geng working with the Department of Social Policy and Intervention).
The WISE team have been talking to lecturers, staff and administrators to gather requirements for their new, or improved WebLearn sites.  The process normally involves:
initial conversations about requirements and current usage of WebLearn
designs for a prototype site
testing the prototype and gathering feedback from users
prototype version 2
launch to Faculty
Despite the challenges and work involved in reviewing information content and structures, the response from Faculty so far has been very positive and we look forward to working closely with more departments across the University.