The Copyright support site in WebLearn has been updated with a new 'look' and links to the latest information about copyright requirements, with specific reference to the use of learning materials in a virtual learning environment. The site is publicly available.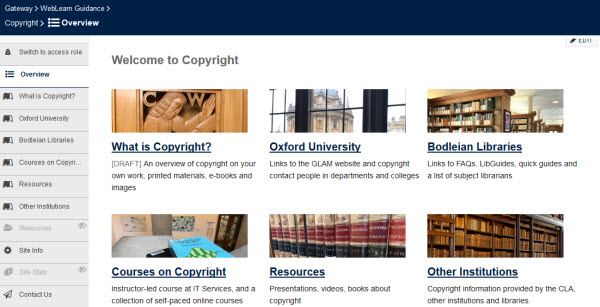 The support site in WebLearn is being developed in conjunction with the Bodleian Libraries; it provides links to copyright guidance currently being updated and expanded by Bodleian librarians and staff in the University's Gardens, Libraries and Museums (GLAM) division, in line with the provisions of the University's CLA (Copyright Licensing Agency) licence.
The message is:
Provision of resources (images, text, articles etc.) for students in WebLearn falls largely under the terms of the CLA licence. For queries contact your college or departmental contact person.
Be aware that even if a journal article is your own work, you may have signed away the copyright to a publisher.
Always check the terms and conditions of the item, or failing that, request permission from the rights holder.
Consider releasing your own material under a Creative Commons licence to make the usage conditions clear to others.
More information: