Oxford colleges and halls have amazing spaces. Whether they are in old, historic buildings or new, modern constructions they play a central role in students' lives and are a key component of the Oxford student experience. But have you ever thought about how you can get to them? Here we are not thinking about whether you are allowed to go in but whether you are able to. Would you be able to go to a talk or visit the common room if you use a wheelchair or cannot walk up or down stairs? Are there toilets that you can get to and could you reach to open the doors? Thanks to the student led Oxford Accessibility Project, you can now find answers to those questions and much more via the College Access Guide.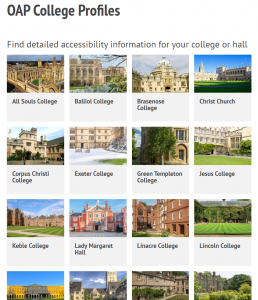 By making accessibility information more readily available, we're empowering present and future generations of Oxonians to engage with college life more fully, and socialise with greater confidence, purpose and ease. Oxford Accessibility Project   
The free guide, available online, is now also part of the University's Access Guide. It will be updated further, with more information added. If your college isn't listed, why not contact the project and take part in helping current and future students get the information they need to be able to take part in University – and college – life.
The Oxford Accessibility Project was supported by the IT Innovation Challenges (student round)