Some users are taking advantage of WebLearn's ability to export calendars in 'iCal' format and are syndicating their calendars to departmental intranets or public websites.
Nuffield Department of Orthopaedics, Rheumatology and Musculoskeletal Sciences also (luckily) known as NDORMS have adopted such an approach as the following screen-shot testifies.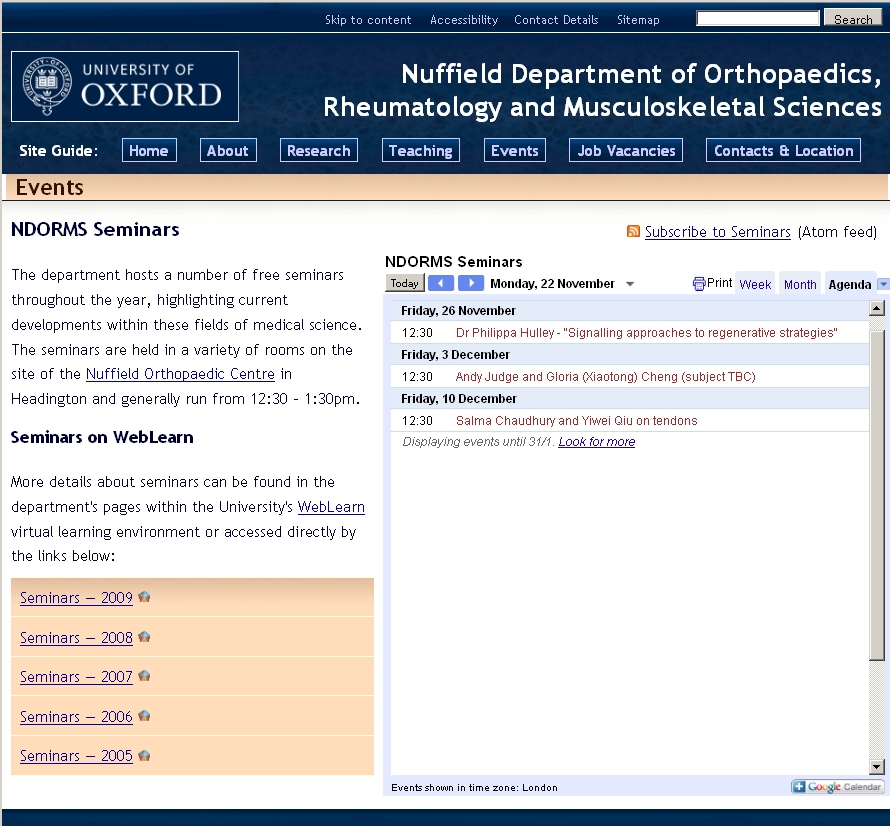 They have a WebLearn site within which resides a calendar of seminars and have generated a public iCal feed of the site's calendar by clicking on the 'export' link within the menu of tool options.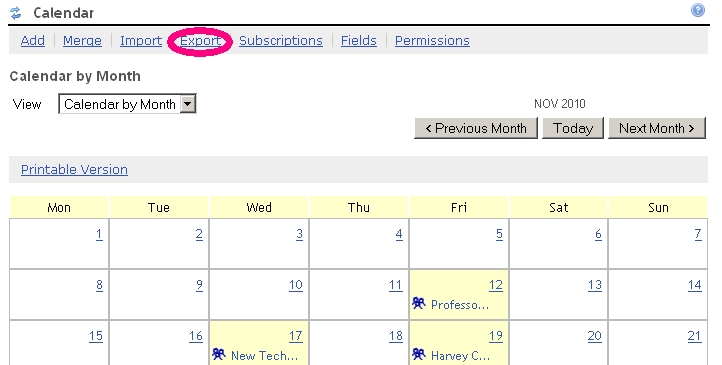 After deciding upon a URL for the feed it is possible to subscribe other calendars to this URL – click on the 'Export' link again to determine the URL.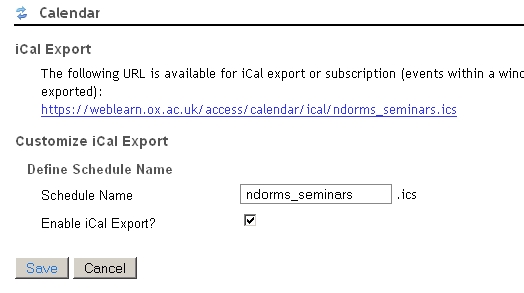 Clearly, it is possible for individuals to subscribe to this iCal feed through a mail client, eg, Thunderbird or Outlook, but it is also possible to subscribe using Google Calendar. The advantage of this approach is that Google provide some custom HTML code to display their calendars in a variety of formats on an arbitrary web page (including a WebLearn page if so desired). To do this one must have a Google account and then must create a new Google calendar to act as a wrapper for a WebLearn calendar. It is this 'wrapper' calendar that will be syndicated.
To display a WebLearn calendar within a Google calendar click on the 'Add' link at the bottom of the left-hand side of the screen (underneath 'Other Calendars') and select 'Add by URL'.
Then enter the WebLearn calendar URL and elect to make the calendar public.
To get a display of the HTML code that will be used to display your Google calendar, click on 'Settings' underneath 'My Calendars' (on the main Google calendar display page) and then click on the calendar name. The HTML code is located under the 'Embed this calendar' section and can be copied and pasted onto an external site.

This approach is slightly awkward but does deliver great benefits such as the ability of the viewer to select different views. After the initial set up the only real issues are that there is a slight lag between the events being updated in WebLearn and them propagating onto the external web site.
Thanks to Wulf Forrester-Barker for suggesting this approach.