Account Activation
When you are added to a WebLearn site with a non-Oxford email address, you will receive an email containing an 'Invitation' link which looks very much like this.
Clicking on the 'Accept this invitation' link will open the 'Welcome to WebLearn' page.
If you do not have a WebLearn account then you should fill in all the form fields – it is important to set your first and last names, some tools do not work correctly if these are unset. You should also fill in both password boxes and then read the University's Terms and Conditions.
If you are agree to these conditions and you are informed that the passwords match then you should click the 'Claim your account' button.
If you have an Oxford single-sign on account then you should complete neither of the forms and instead you should contact the person who added you to the site and tell them to add you using your Oxford account instead. You will find their email address at the top of the original 'invitation email'.
If you already have a WebLearn account and are not a member of Oxford University then  you should follow the highlighted link  and login. If you have forgotten your password then use the link at the bottom of the resulting page.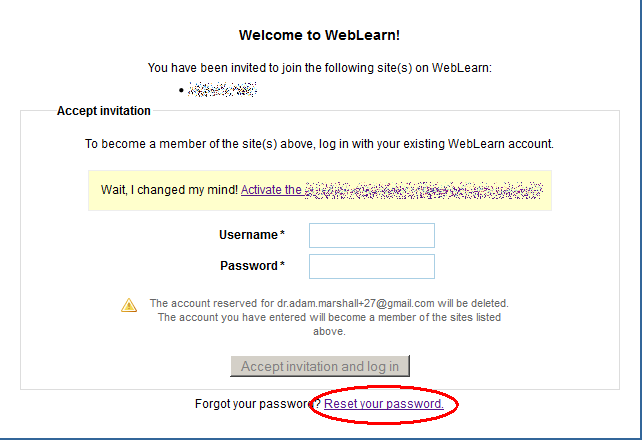 Activation Email lost or not sent?
If the activation message is not to be found in your in-box then try looking in the Junk Email folder. If you use Microsoft Outlook with its over-zealous Automatic Filtering enabled (the default setting) then the message may be ear-marked as a phishing email!
It is possible to disable Automatic Filtering by clicking Actions > Junk Email > Junk Email Settings and selecting No Automatic Filtering.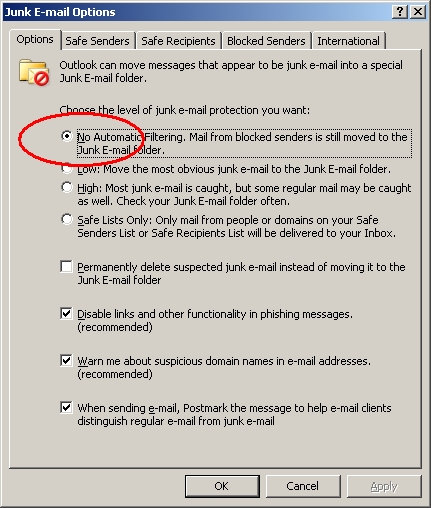 If you still cannot find the email the use the 'Forgotten Password' instructions given below.
Forgotten or lost password?
If you have forgotten or lost your password then click on the 'Other Users' link at the top of the page.
Then click on the "Forgotten your password" link
You should be presented with a page entitled 'Forgotten Password'.
Fill in your email address and click the 'Request Password Change' button, an email with the subject 'New Password Request' will be delivered to your in-box.
Click on the link as before and enter your new password on the resulting form.
Change Password?
External users (or 'Other users') should first login.
Then navigate to My Workspace. An Account tool will be visible.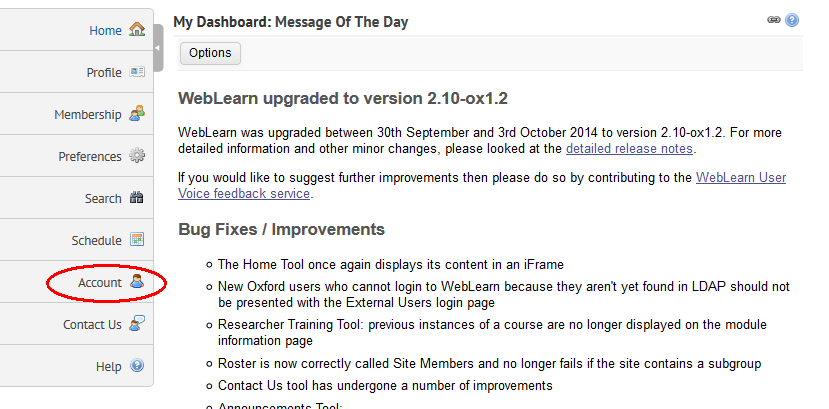 Clicking on 'Account' will give.
Clicking on 'Modify Details' will then allow the password to be changed.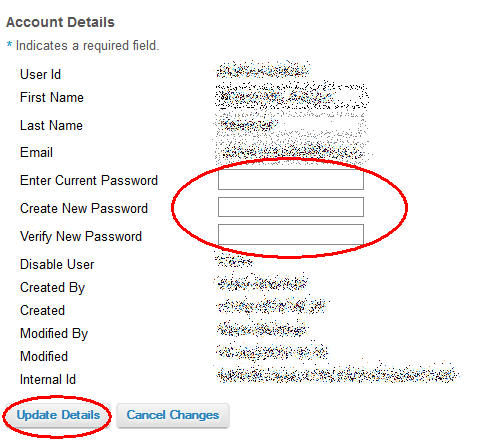 Don't forget to click 'Update Details'.