There have been a number of new features and improvements in WebLearn as a result of the recent WebLearn upgrade. Three new features at site level:
Short URL
If you click on a link icon on a page, a pop-up window appears showing the URL of the page/tool.  In the pop-up window, click the check box next to 'Short URL', the URL is shortened.   Then you can link to the tool/page using the short URL.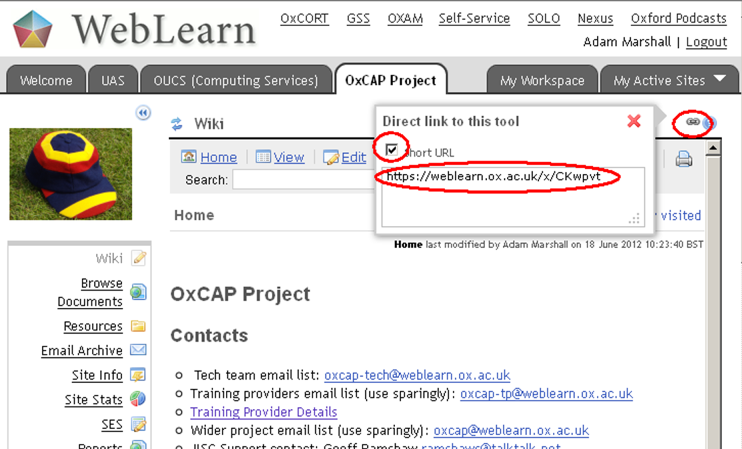 Site templates
Instead of creating a site from scratch, you can create your site based on a number of templates.  The first three of six templates are 'Template for tutor', 'Template for lecturer' and 'Template for content'.  It is hoped that the templates will help with commonality and consistency across sites.  More details of the templates.
Collapse site menu
By clicking on double arrow icon, the site menu will be collapsed to show tool's icons only.  This will provide more space for the content.
Apart from the overall improvements, a number of tools are also enhanced.
Forums
New features in Forums include an improved User Interface, sortable threads,  displaying author photos, setting availability for forums or topics, and linking to a message directly.
User interface: it is now much easier to distinguish Forums and Topics
If you have already uploaded your photo into 'Profile' via 'My Workspace' your photo will be displayed alongside your posts.  People can click on your photo to see further information that you added in your profile: personal summary, contact information, etc.
In the Forums and topics setting, you can now set open and close dates for forums and topics respectively.
You can link directly to a message via a "Copy Link" button.
A count of how many people have read a message is now displayed
Resources
Two major changes to Resources are the short URL facility and a better explanation of permissions.
Short URL facility: you can find the short URL of a file or a folder via Actions -> Edit Details – > Web address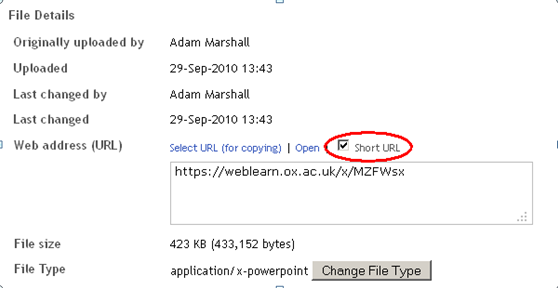 Permissions interface enhanced:  permissions in a number of tools including Resources are more descriptive and easier to understand.
.
Sign-up
A large number of new features have been developed in the Sign-up tool.   For example, adding new 'Categories' field, enabling automatic creation of internal subgroups based on sessions, and manually emailing attendees.
New 'Categories' field: you can now tag your events, e.g. seminar, tutorial or meeting.  The categories appear in a column in a table where all meetings listed.  You can sort the categories by clicking the column heading: category.
Terms are translated from American to British English: e.g. 'biweekly', has been changed to 'fortnightly'.
Group synchronisation: If 'Create groups for timeslots' is ticked (see above), a group name appears under 'Manage subgroups" in Site Info.  However, it initially shows zero member.  As participants sign up, cancel, or are moved into the participant list from the waiting list you need to manually click on the 'Synchronise' button to update the group members.

Change organiser: a sign-up session can be assigned to any maintainer or contributor in the site.
Attendees can choose more than one time slots in a multi-slot meeting.
Recurring meetings in a series can be deleted at once.
You can now manually email all or individual attendees.

You can prevent cancellation is disabled by attendee after closure.
.
Profile
The new profile tool comes with a number of new features.   It is much easier to add photos to your profile.  The improved privacy settings enable you to specify what information in your profile is shareable. In addition,   it has been integrated with a number of social networking tools including Facebook, Twitter, Linkedin, Skype and MySpace.
Schedule (Calendar)
Calendar is a rather powerful tool which allows you to bring certain external calenders into WebLearn as well as exporting WebLearn calendars to other calendar tools such as MS Outlook.
The improved Calendar tool enables you to generate a private URL of a WebLearn site calendar, and then use this URL to overlay view this WebLearn calendar events in another calendar tool, e.g. MS Outlook.   To better explain the functionality of the Calendar tool,  more descriptive terminologies have been used: e.g. Merge (internal calendars), Import, Export (public URL), Merge (external calendars), and Subscribe (generate private URL).
Email Sender (formerly Mailtool)
As a new tool, it has not only replicated the functionality of old tool, but also brought improvements. For example, Email Sender sits with the tool under the same category: Email Archive.  A quirk of old tool, sub-groups, has been removed.