We are pleased to announce that WebLearn has undergone significant face-lift with a move to WebLearn 10 (2.10-ox1). The upgrade was affected on Tuesday 16th September 2014, we apologise for the disruption that the extended downtime must have caused.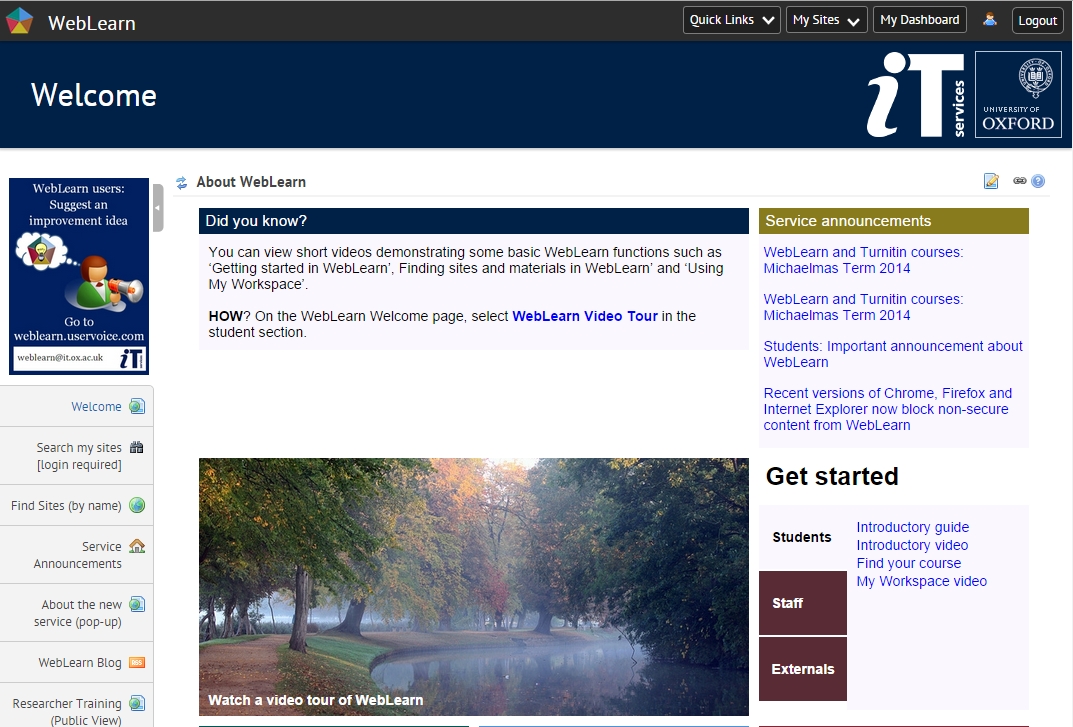 As well as a new look, this release brings a wealth of new features including:
Brand new modern, mobile-friendly navigation with the 'Sites Drawer' offering quick links to individual tools within a site
Peer marking in Assignments tool
Brand new Contact Us tool (as recommended by the WebLearn Student Experience study)
Sequencing of content and other activities with the new Lessons tool
Customisable branding for a department (available upon request, see below)
Drag-and-dropping of files into Resources through your web browser
Allowing students to submit group Assignments
A new Syllabus tool – edit in place, calendar integration, bulk changes
Updated Markbook: assign extra credit, new drop highest, drop lowest, and keep highest grade options, hide/show columns in All Grades page and PDF export
Add Mathematical notation to web pages
Improved Forums tool offering statistics and grading; an option to require users to post before they can read existing posts; word count for messages; and improved permission settings layout
New Web Content and Home tools (

see below for important information

)

Support for IMS Learning Tools Interoperability 2.0 – this allows data to be sent back to WebLearn from the 3rd party tool
The ability to locate and link to Forum posts and Assignments within the WYSIWYG editor (via Browse Server)

Language preference selectable at site level
Support for IMS Common Cartridge import (through the Lessons tool)
Brand new Site Members tool (aka Roster)
Improved Reading Lists: items can be reordered, list items can be files in Resources, fixed many problems with importing
Updated WYSIWYG HTML editor
Users can record audio in Resources
Add movies to HTML pages in Resources
Broadcast files to all Drop Boxes
Tutorial for first -time users
Question pools copied during site duplication in Tests tool
Introduction of AntiSamy HTML code filtering to enhance security (on all tools except Resources) – you will see a warning if HTML is removed
Plus many many more enhancements
This new version has been subjected to months of testing but, as with other similarly complex systems, there are bound to be some teething problems – some issues that our testing did not reveal. Should you encounter any oddities then we would be very grateful if you could report them to the central team (using the new 'Contact Us' tool), ideally with screen-shots. We will attempt to address any outstanding issues over the next few weeks.
The next few sections outline some of the new features and present a handful of known issues that we simply didnt have time to address.
New Navigation
There is a new 'breadcrumb trail' and navigation to sites is now performed via the "Sites Drawer".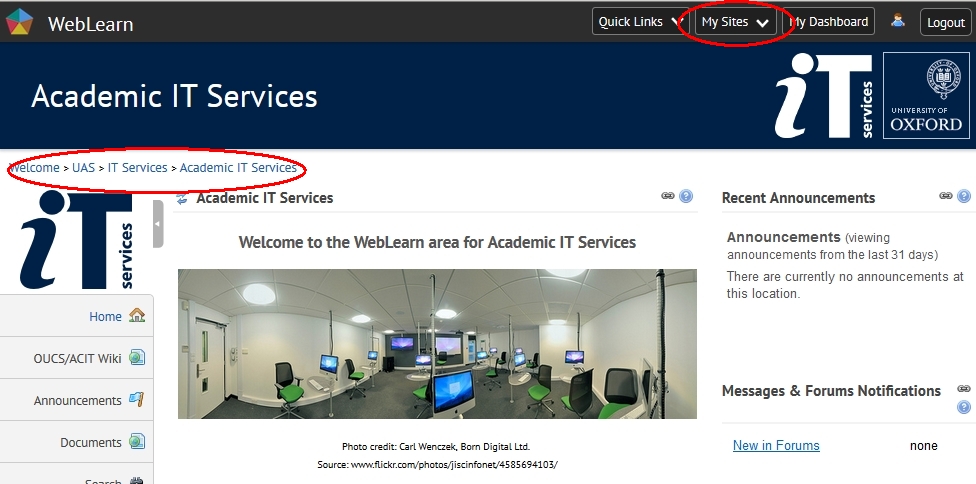 To access the "Sites Drawer", click on My Sites and then click on the symbol to the right of the target site to reveal and jump to individual tools present on the site.
New Web Content and Home tools
The Home and Web Content tools no longer use "iFrames", this has resulted in a change in behaviour (see below) and have new icon for configuring the 'properties' of the tool, this used to be a button labelled 'Options'. (This is the first step towards removing iFrames from the system.)
On the Home page, you may also see a red warning rectangle appearing at the top right of the screen explaining that some HTML tags have been removed from the page. This warning comes from AntiSamy which is a new library filtering out potentially dangerous HTML tags. AntiSamy filtering is not applied to files in Resources so the procedure detailed below will fix that issue as well.
Customisable Branding
It is now possible for departments to have their own top banner on all their pages.The following aspects can be configured:
'backgroundColour' – colour of main banner (specified as #rrggbb colour, for example, #f133e6)
'backgroundImage' – URL of the background image of the main banner (will tile) – store this in a public folder in the department's administration site
'imageSource' – URL of the image at the right end of the main banner – store this in a public folder in the department's administration site. This should be of the appropriate size
'imageLink' – URL of a website that the image at the right end of the banner links to
'message' – the title which will be visible at the top of the page, if this is not set then it will always be the name of the current site
'fontColour' – the colour of the font of the 'message' (specified as #rrggbb colour)
This customisation must be done by the central WebLearn team. If you require this service then please send an email listing the various values for the above attributes; ensure that you have stored any images in a public folder in your administration site and place the URLs in the email.
Examples of Custom Branding
The Said Business School: this has the 'message and 'imageSource' attributes set
A site for ice cream lovers: this has the 'message', 'backgroundImage' and 'fontColour' attributes set; the 'imageSource' attribute has been blanked out.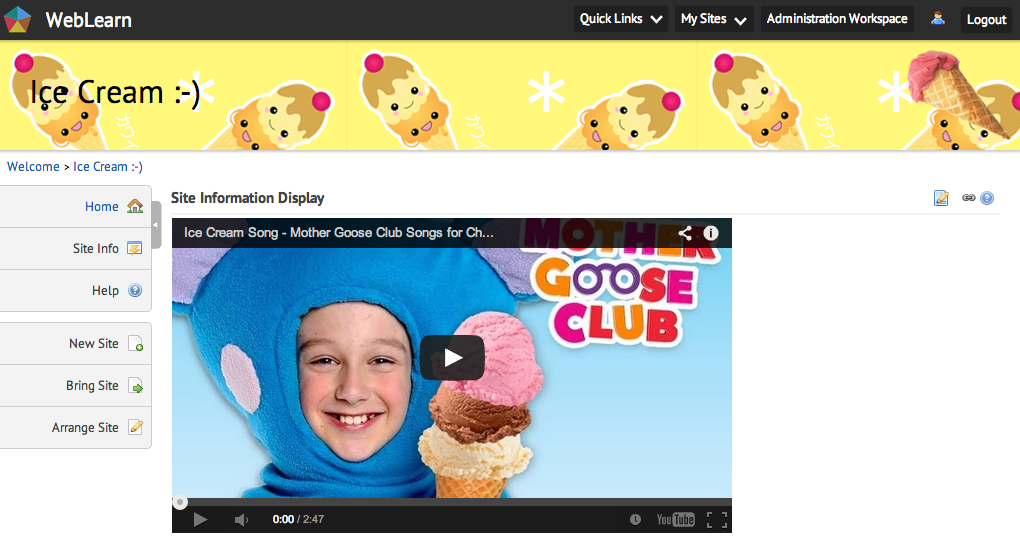 Known Issues – 24 Sept 2014
Unfortunately, as with any major release, there are a handful of known issues that we simply didn't have time to address. We will attempt to address these issues over the next few weeks.
There seem to be a number of problems with Firefox 31.0, you should update to the latest version
Turnitin integration in the Assignments Tool is currently misconfigured so is not functional; we will repair this as a matter of urgency. New assignments set up since the upgrade (on 16th) will need to be redone, existing TurnItIn-enabled assignments will have their Originality Reports processed as soon as the problems are rectified. FIXED 26th September
No WYSIWYG editor in Surveys beta when using Internet Explorer
New HTML pages without the ".html" file extension are displayed incorrectly – they have the wrong MIME type, this can be corrected by changing the MIME type close to the bottom of the page's Edit Details page. It should be changed from "text/plain" to "text/html". FIXED in version 2.10-ox1.2 (30 Sept – 2 Oct)
Announcements made to internal subgroups appear to have vanished but actually they are still present but temporarily inaccessible. In order to see the missing announcements, you need to be in the group to which they were posted. FIXED in version 2.10-ox1.2 (30 Sept – 2 Oct)
The "Contact the Helpdesk / WebLearn team" pages in the new 'Contact Us' tool should not present a list of site maintainers. The solution is to use the Contact Us link at the bottom of the page instead. FIXED in version 2.10-ox1.2 (30 Sept – 2 Oct)
The drop down list of contacts is empty when the site contains a maintainer or contributor who has now left the university. Such users are invisible to site owners but not to the WebLearn team. FIXED in version 2.10-ox1.2 (30 Sept – 2 Oct)
Email attachments are not indexed by 'Search'
Some information is duplicated in the pop-up help
The Padlock "lock tool" facility is equivalent to the 'light bulb' feature, ie, it only hides the tool
The Site Members tool (mistakenly referred to as 'Roster' in Site Info) does not display members if a site contains one or more Participant Groups. FIXED in version 2.10-ox1.2 (30 Sept – 2 Oct)
The 'Search Library Catalogue' pop-up is blocked by most browsers and must be specifically allowed to open (there is nothing we can do about this).
The 'Search Library Catalogue' facility will not work in Internet Explorer 10 and higher.
The 'Sakai Resource Picker' within a reading list appears to go wrong with certain browsers but in actuality, the resource is added to the reading list just as it should be.
Links
IMS Tools Interoperability
Lessons tool videos