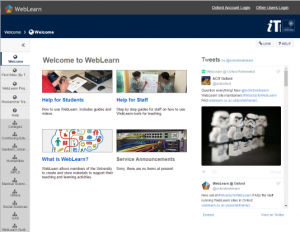 The WebLearn 11 Upgrade will take place on Tuesday 6 September 2016 – the system will be unavailable from 7am–1pm.
Please accept our apologies for any inconvenience that this essential work may cause.
The enhanced version of WebLearn will enable us to make use of the latest available software fixes and enhancements. This will include improved usability on mobile devices, and better tools to support teaching and learning.
Details of the changes are included on the WebLearn 11 Upgrade web page, which now includes a series of Frequently Asked Questions (FAQs).
Preparing for Michaelmas term
Although you will not need to make any changes to your WebLearn pages for them to work on the new version of WebLearn; it is advisable to reserve some time after Tuesday morning, to check your existing material. You may like to view your pages on a mobile phone to check how they look. You may also wish to refer to the FAQs, Will I have to do anything to ensure that my sites work on a mobile device? and What should I do if my site does not work well on a mobile device? (FAQs are linked from the WebLearn 11 Upgrade page.)
Further information
The WebLearn team will offer a series of events and courses on WebLearn 11 in Michaelmas term, and details will be provided soon.
We recommend referring in particular to the FAQs: How can I find out more about the changes? and How will I find out how to use the new features?
If you have any queries, please contact weblearn@it.ox.ac.uk.