The WISE project
One of the outputs of the recent WebLearn Improved Student Experience (WISE) project is a WebLearn site offering advice and guidance on various aspects to consider in building WebLearn sites and pages. The WebLearn Best Practice site encapsulates our experience in supporting 19 departments in redesigning their WebLearn areas.
Another output of the WISE project was a set of four WebLearn site templates, using the 'box' design and layout: Departmental Site, Programme Site, Course Site and Tutor Site. The Best Practice site provides a link to the guide on using the site templates, which illustrates how to create a new site based on a template, and then to edit the components according to your needs.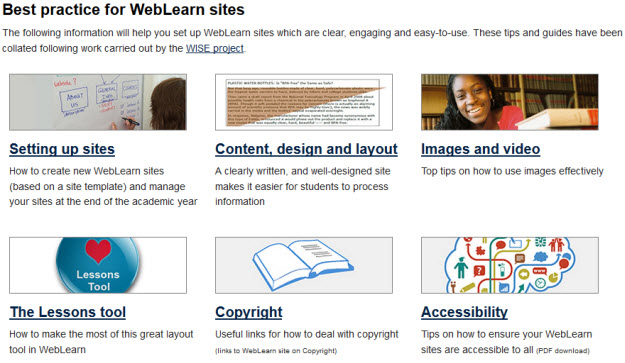 The Best Practice site provides information about the Lessons tool (including various examples of Lessons pages), and considers the question: 'new site' or 'new page'? There are hints and tips about page design and layout (with examples of 'good' and 'bad' practice), images and video, accessibility and copyright.
More information: