In 2014 Oxford University approved a brand new postgraduate programme in Sleep Medicine. The two-year online programme leads to a postgraduate diploma (PGDip) or a Master of Science degree (MSc).
The programme is hosted by the Sleep and Circadian Neuroscience Institute (SCNi), at the University of Oxford which "brings together world leading expertise in basic and human sleep and circadian research and in the evaluation and management of sleep disorders" (Nuffield Department of Clinical Neurosciences, 2016).
Learning technologists in Medical Sciences and IT Services were involved in building a customised portal and customised online course components in WebLearn. In tandem with the course development team, the learning technologists have tried hard to design a programme that attempts to imitate the face-to-face, personalised Oxford learning experience.
This approach is achieved through small student groups, moderated online discussions, live webinars and collaboration with subject specialists to reflect the most recent research findings. It was particularly important to employ aspects of personalisation, e.g. showing students only material that is relevant to them, at the appropriate time (depending on current module, week etc.).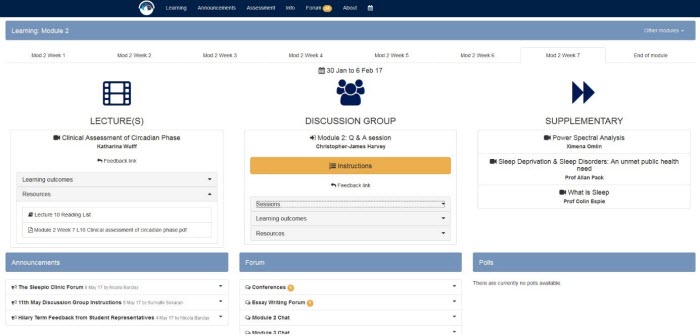 In the structure of the online modules, the WebLearn 'Lessons tool' was used to offer the pedagogical advantage of tailoring a learning pathway for the students, with integrated content, relevant activities and assessment opportunities.
The customised interface and personalisation features were realised by taking advantage of WebLearn's 'behind-the-scenes' RESTful web services API and rendered using a popular open source JavaScript framework called Angular 2. A very modest amount of development work was undertaken by the WebLearn team to make this approach possible.