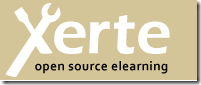 The University of Nottingham's Xerte Project provides a full suite of open source tools for elearning developers and content authors producing interactive learning materials.
Pat Lockley, worked in the Xerte team (who won the 2009 ALT Learning Technologists Team of the Year) before he moved to OUCS, very kindly gave a demonstration of the on-line version of the tool to selected members of LTG.
Xerte, which is open source and recently won a prestigious IMS Platinum award, comes in three flavours:
Xerte desktop V2 (for MS Windows only)
Xerte online toolkit – allows for shared authoring
Xerte desktop v3 Alpha  (for Mac, Linux and Windows)
Xerte Learning Objects are based on one of a small number of templates. Pages may contain text, audio / video etc, charts (generated from tabular data), interactive activities, open content and so on. All objects are highly accessible; one can change contrast, text size, font and others.
Links to example objects can be found at the end of the post.
Within a page containing images, one may zoom in and out, have slide-shows, morphed pictures, an image gallery (thumbnails), hotspot mark-up, hotspot quizzes, and others. Other pages may contain quizzes, web 2 objects such as Google Maps, YouTube videos, Flickr slideshows, delicious bookmarks plus many more plus regular textual content.
All content can be exported as a ZIP file or a SCORM object for use in a VLE.
Pat recommended that a good way to get started is to download the desktop version (v2) or possibly to use the free TechDis-hosted on-line sandpit – this has a slightly simpler user interface but is initialised at the start of every month (one must export and then import and content in order to continue to development).
Xerte is highly recommended for professional-looking student generate content.
Xpert is a companion tool to Xerte and can be described as a searchable Open Educational Resource (OER) aggregator which, at the time of writing, had over 232,000 nuggets of learning. Xperte is open to anybody to use to find free teaching material (including of course all Oxford University podcasts).
Links