Post by Fawei Geng & Adam Marshall

The recent upgrade to WebLearn version 2.8 has seen the introduction of a number of site templates. These templates can be used when creating a site from scratch and will impose structure and good practice before any content is added. In other words, much of the planning and layout has been done so that one does not need to start from a blank site.
From the point of view of learners it is important that there is commonality in structure across WebLearn sites and basing sites upon common templates is one way to achieve this.
Three templates currently exist: Template for tutors, Template for lecturers, and Template for content. These templates will appear as options when one creates a new site from scratch.
To invoke a template, one needs to click on the 'New Site' link as normal, enter the site URL and Site Title and then select 'Create site from template'  on the 'Site Type' page.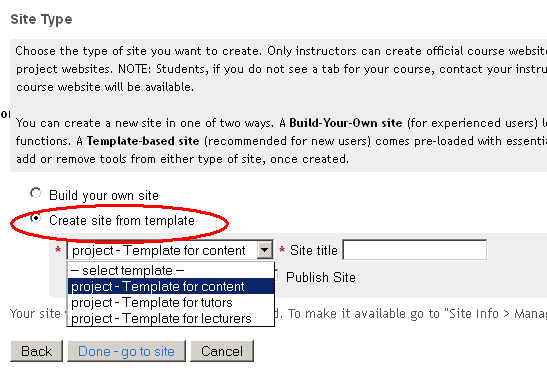 Once a template has been selected, be sure to select 'Copy content'. Unfortunately it is also necessary to re-enter the ' Site title' again.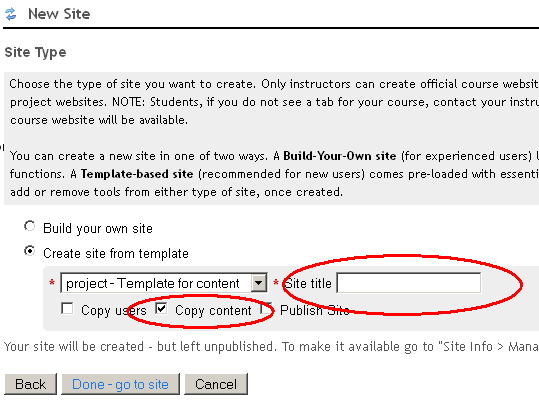 Each template contains a page of 'instructions on how to build this site'. Tools appropriate for the purpose of the site have been added to each template and populated with sample material which can be modified.
Pop-up help pages provide links to further information in the form of relevant step-by-step guides and video demonstrations of how to edit or customise the suggested course elements.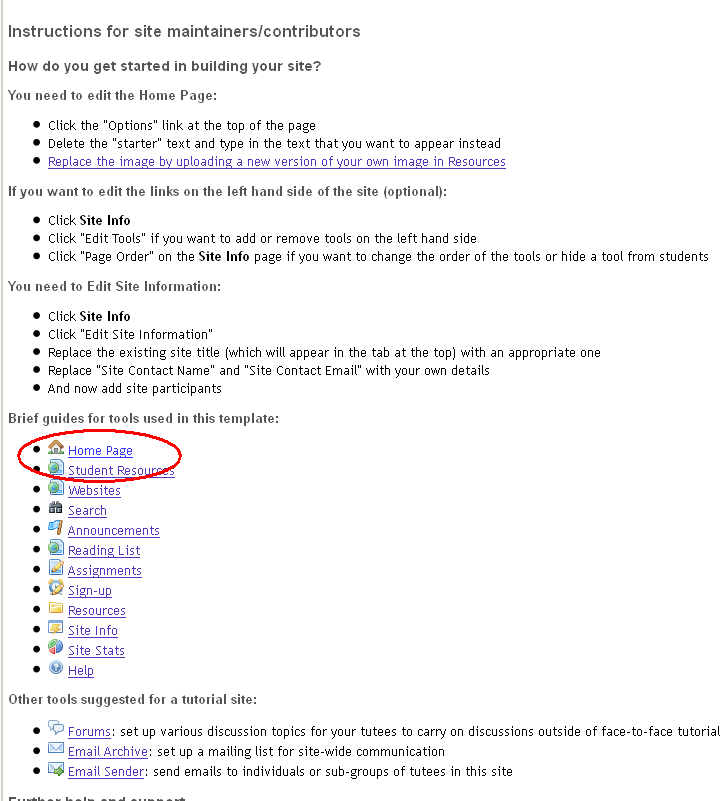 Clicking on a particular tool will bring up some guidance.
A video tutorial may be available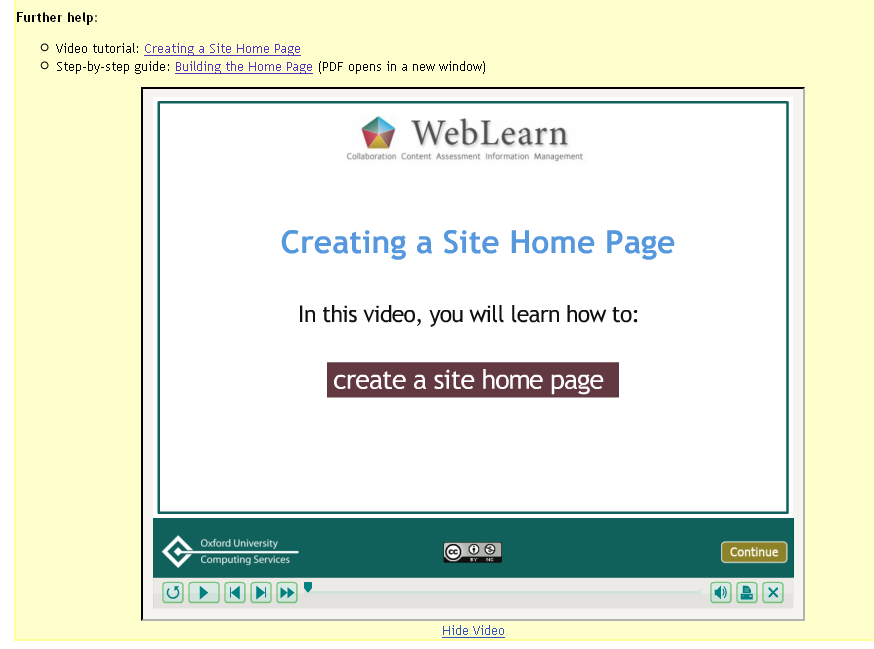 Template for tutors
This template should be used to support tutorial sessions.
This includes facilitating small group tutorial work and the submission of essays (written tasks) possibly using the Turnitin plagiarism checking service.   Tools added via the template are Announcements (for communication),  Assignments (for written work submission), Sign-up tool (for tutorial bookings) as well as a number of other tools.
In addition, a set of suggested folders and content (e.g. reading lists and web pages) are also added in Resources which a maintainer can use or modify accordingly.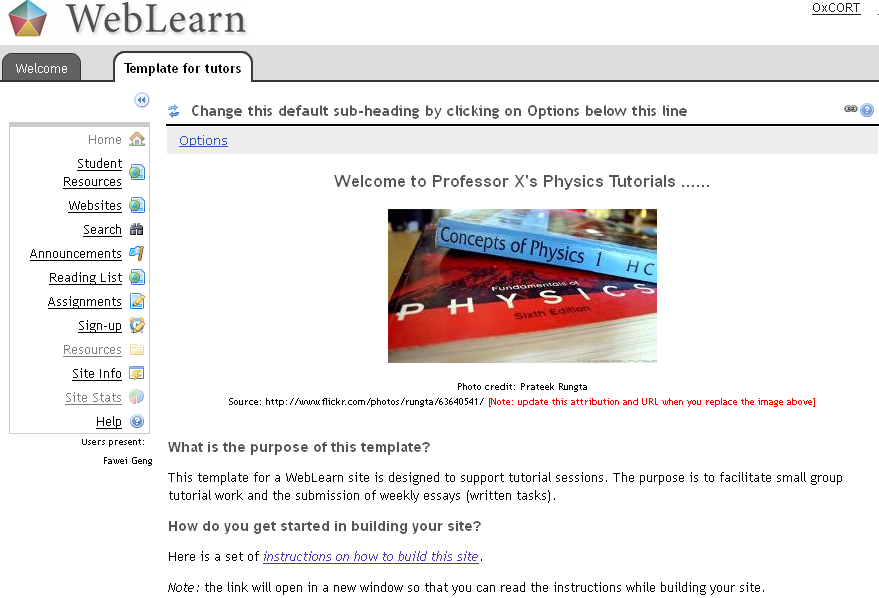 Template for lecturers
This template should be used to support a series of lectures, providing resources such as lecture notes, reading lists and extra enrichment materials.
A number of lecture related tools are pre-loaded in the template. 
Schedule displays Oxford's term dates.  It also can be used to announce lecture time and venues.
Student Resources allows students to see a snapshot of the files and folders in Resources as well as being able to browse through the resources.
Reading List is available via Resources tool where a site maintainer can build reading lists by searching Oxford University Library catalogue (SOLO), importing existing lists created in EndNote or RefWorks or by manually creating new lists.
A lecturer may use Forums to engage students by posting pre-lecture questions or answering student's queries.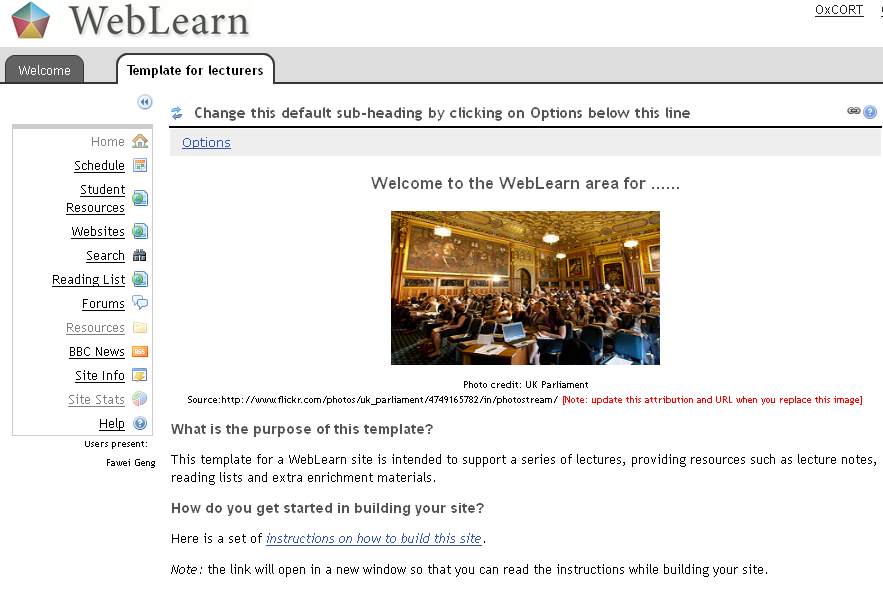 Template for content
This template should be used to give students access to the syllabus, lecture notes, and other organisational information.  Depending on the circumstance, the  site created using this template can be for a single module or a whole programme.
As it is content-based, the tools in the template are:  Student Resources, Websites, Reading List, News and Oxford Podcasts.
The use of Student Resources and Reading List will not be discussed here as they were mentioned above.
Syllabus enables you to create an outline of your module or programme: e.g. aim, background, learning outcomes assessment methods and duration.  If you have already have a syllabus somewhere else on-line, you can also link to it by using the 'Redirect' function. 
News tool allows you to embed dynamic content in your WebLearn site by using the RSS feeds provided by relevant internet sources such as on-line research journal sites.  When  new content is added to a feed, the updated content will be automatically shown in the site.
Oxford Podcasts uses RSS to bring any podcast feeds available from the Oxford podcasts portal (http://podcasts.ox.ac.uk/) into your WebLearn site.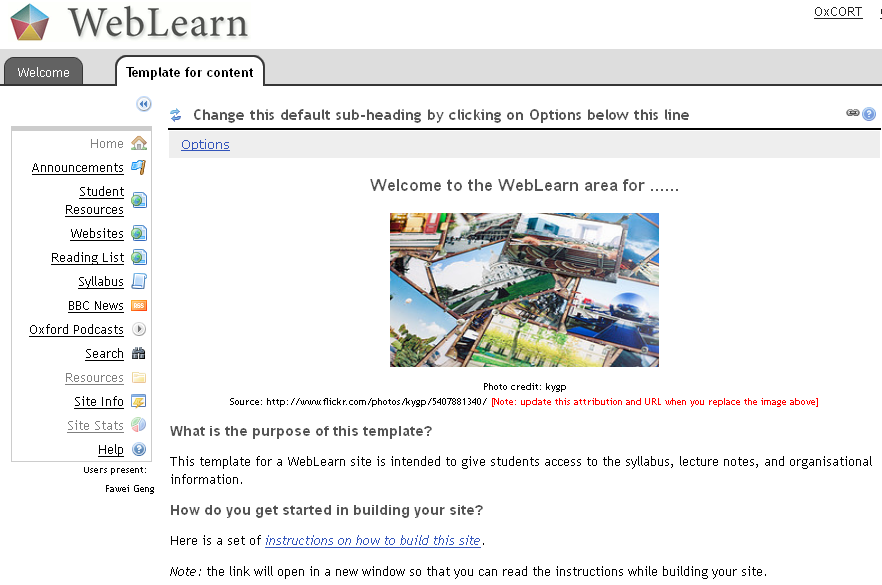 More information
The WebLearn guidance site has useful information about templates.
Tell us what you think
We intend to evaluate the use and usefulness of these templates and would like you to share your experience of using them. Please send your comments and suggestions to weblearn@oucs.ox.ac.uk.