WebLearn was upgraded on 27th April 2017 to version 11-ox5. We apologise for any inconvenience caused by the disruption.
Here is a list of some of the major improvements:
Peer-to-peer Chat
It is now possible to instigate a one to one chat with a fellow site member or other WebLearn user with whom you have set up a connection (via "My Home > Profile").
To start a conversation, click on the "Chat" rectangle at the bottom right of every page and then click on the person you would like to chat to (NB, there may be a short delay before the list of users appears).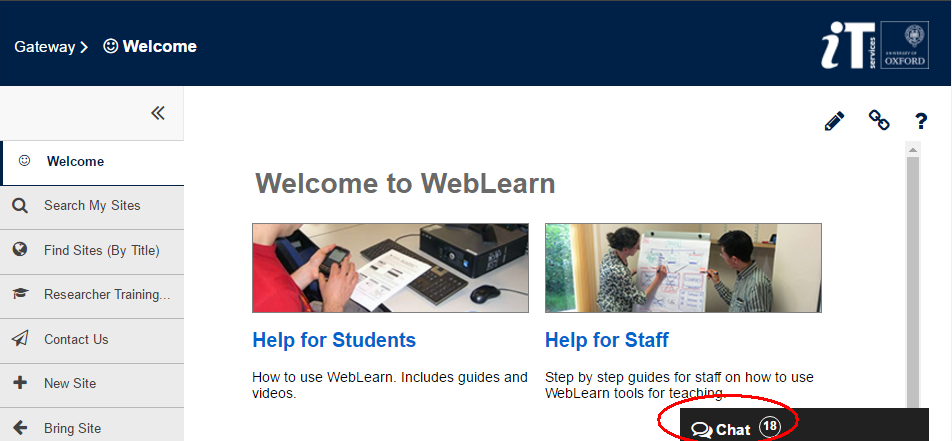 You can then have a conversation by typing in the (small) window that pops up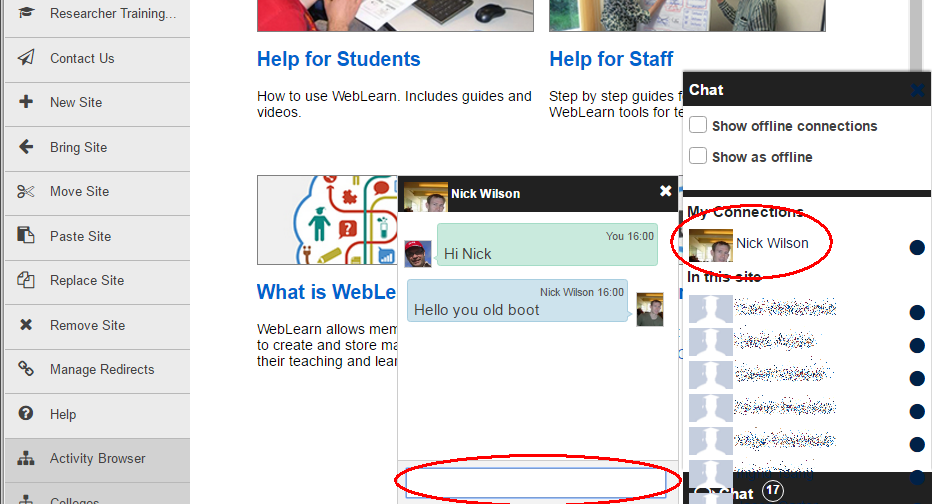 Lessons Page Ownership / Editing Restrictions
This release introduces a brand new concept to the Lessons tool – owning a Lessons page.
In the past, if  a site member was given permission to edit a Lessons Page then that meant they could edit (and delete) all Lessons pages on a site. It was felt that these update permissions were too loose and could result in accidental deletions or damage to sites, so the concept of an owned page was introduced (cf pages / files in Resources which all have owners).
The update allows a page to be owned by a site participant who doesnt by default have permission to edit Lessons pages. As the owner of a page, the user is able to update and edit that page and also create sub-pages from within that page (which they then also own).
To "give" a page to a user, click on the settings (cog) icon.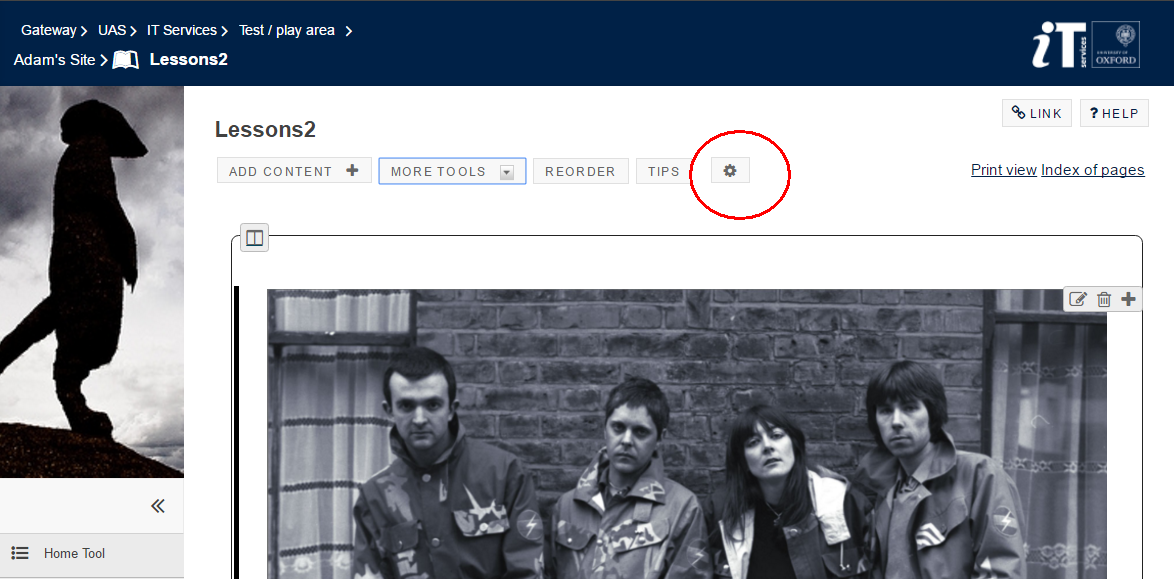 then select the owner (at the bottom of the resulting page)
The page will then show the owner (but not to students).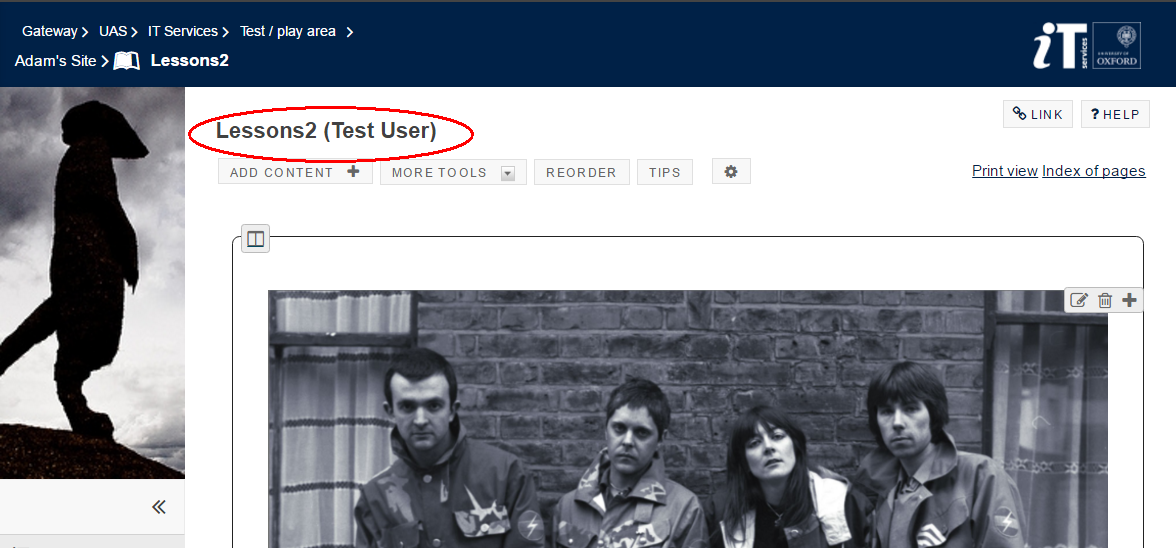 The best way to use this with staff is to modify the "Contribute" role and remove "edit permissions" from this role. To do this, click on "More Tools > Permissions"
and then unselect the "Update all pages or items" permission.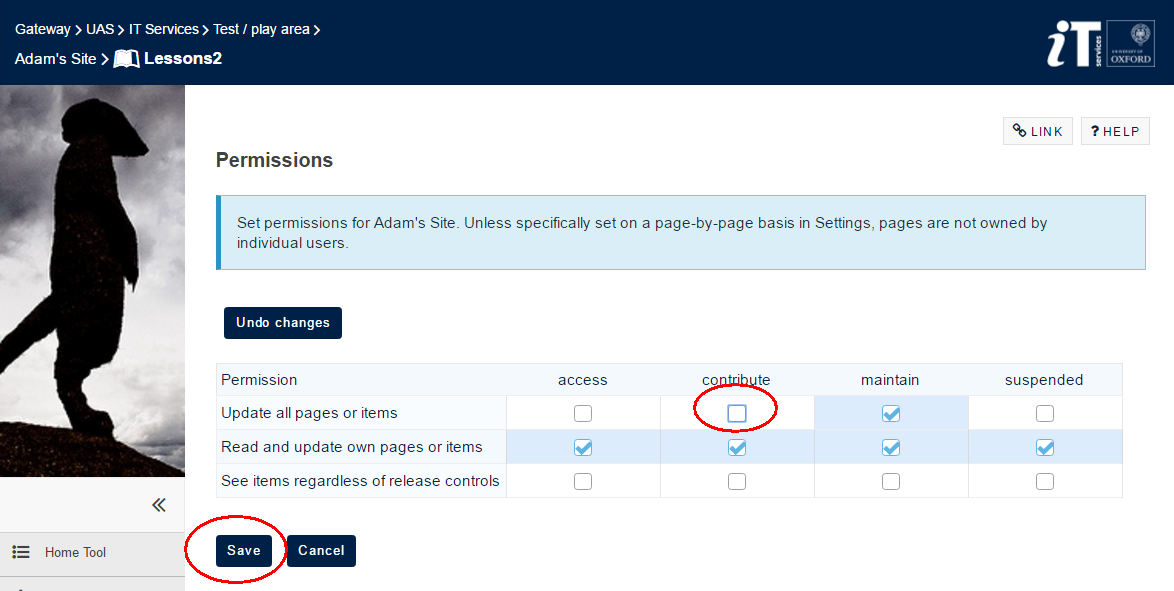 In summary, if you are responsible for a site in WebLearn, you can delegate responsibility for editing one or more specific Lessons pages in the site to individual members with running the risk of them damaging other Lessons pages in the site.
Reading Lists (ORLiMS)
Recent problems have come to light when editing a reading list that has a large number of items and nested sections. To combat this, we have added "integrity checking" to ensure that reading lists with incorrectly nested elements cannot be saved. We have also fixed a bug which led to incorrect "Find it on Solo" links for Journal Articles and another bug where some links to "Electronic Versions" were incorrect.
It is possible that there are some reading lists still in the system that have incorrect nesting, if you are unable to save a reading list after editing then please get in touch with the central team and report the site and name of the reading list. We will be able to update the database and modify the reading list to ensure it is in a consistent state.
Any new reading lists should now not be able to become incorrectly nested.
Bug Fixes
We have fixed a handful of other issues discovered over the last few months.
The "Replace Site" hierarchy management option now works correctly
The "Site Members" tool has improved formatting
The collapsible left-hand side menu now remains collapsed when moving to a different site
"Edit Site Information Display" on the "Overview" tool now saves correctly
The colour of the Turnitin Originality Report flag now displays correctly to students at all times
There is a more informative error message when trying to save a new file in Resources that would mean the URL would exceed the permitted maximum of 256 characters
Activity Browser
A number of minor improvements have been made to the Learning Resources Activity Browser which was developed as part of the SHOAL (Innovation) Project.