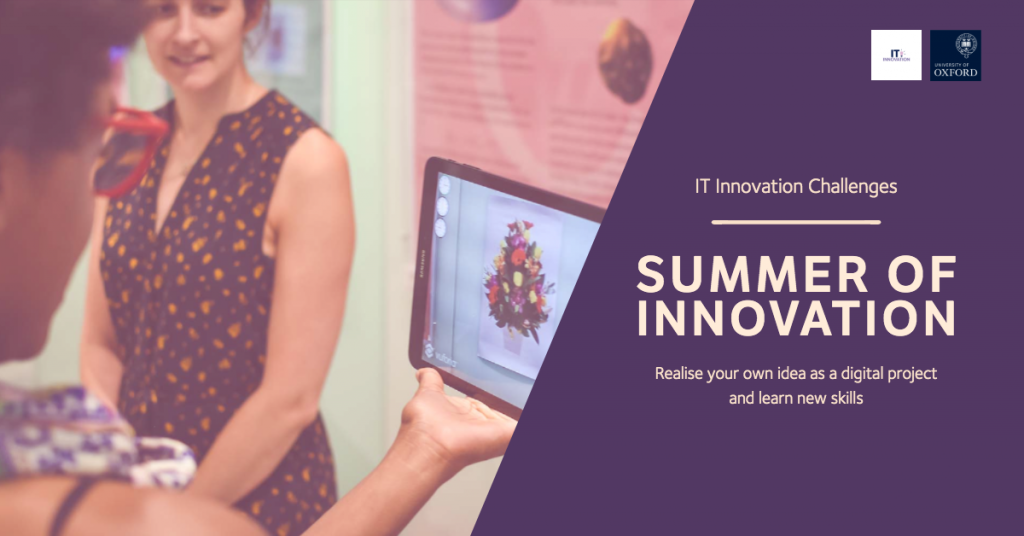 Realise your own idea
The Summer of Innovation is a funding scheme to help you realise innovative ideas as digital projects. It is similar to an internship, but allows you to work on a project based on your own idea.
This year we welcome ideas that focus on Digital Innovation for Teaching and Learning as well as any other ideas that bring benefit to the University, its staff and students.
Learn new skills
This scheme is for you if you are open to learning new, transferable skills and collaborating. No programming skills are needed and developers in IT Services will support you with your project. We will also support you with the administration of your project. An IT Innovation Challenges project is a great place to learn about project management, collaboration and communication. This scheme is also a fantastic networking opportunity.
Get paid for your work
The University will employ you on a casual, temporary employment contract with IT Services. Depending on your availability in the summer, you can choose the length of your project as long as it is between 6-10 weeks long.
Who can apply
The Summer of Innovation is open to all undergraduate and postgraduate students. More information is provided in the FAQs.
Browse previously successful projects
To see which student projects have been successful in previous years, take a look at the funded projects list or see some selected student projects below:
How to get involved
Go to the Oxford Ideas platform (log in with your SSO) to receive updates and be notified when you can add your ideas. Idea submission will only be open for a short period in January, so make sure you are ready!
If you want to know more or have any questions, please do not hesitate to get in touch with the team at innovation@it.ox.ac.uk.