London Metropolitan University's GLOMaker tool is a free open source tool which allows elearning developers and content authors to produce highly structured and media rich interactive learning materials.
In May, Professor Tom Boyle from the Reusable Learning Objects CETL gave a presentation in OUCS a part of the ITLP Make series of lunchtime seminars.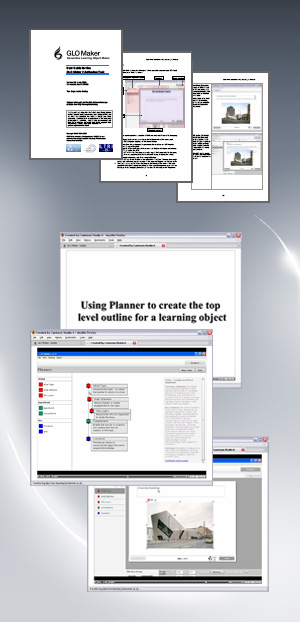 One of the key drivers behind GLOMaker is that the design of learning objects should be reusable – the tool has a number of in-built design patterns (or 'learning designs') which are rooted in good pedagogic principles.
GLOMaker spports most of the most commonly desirable features: quizzes (multiple choice / word assembly) with feedback, photo display with zoom facility, slide-show viewer, video and audio players and a step-through sequence player.
One of the best aspects is that the tool comes into its own with its extensible design pattern interface. The tool is shipped with 4 common patterns but it is easy to tailor your own via the intuitive drag-and-drop 'block editor'. Pedagogical guidance is offered for each block and there exists a number of different page layouts. The authoring process is very similar to that of Power Point which implies that it is fairly easy to get started with the software.
Links