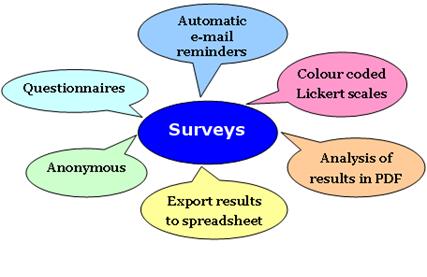 Thanks to the participants in the WebLearn Bytes: Surveys session on Tuesday 18 February 2014 for the following interesting questions.
Question: Is it possible to merge survey results based on the same template?
Answer: The WebLearn Surveys tool cannot pull together results from different surveys (based on the same template).  However you can export the results from each survey to Excel, and then manually combine the results into one spreadsheet.  On a related note, if you assign a survey to multiple WebLearn sites, when exporting the results you can either select a single site, or if you select multiple sites, it will merge the results.
Question: Is there any scope for editing questions offline and importing into WebLearn?
Answer: The WebLearn Surveys tool does not offer a question import function.  However you can author questions offline and then copy and paste them into a survey template.
Question: Does the WebLearn Surveys tool have a branching function, e.g. if you answered 'No' to question 3, you will be directed to question 18?
Answer: The current version of WebLearn Surveys tool does not have a branching feature.  The workaround is that you can include such text in the question wording, e.g. if your answer to this question is 'No', please go straight to Question 18.
Question: Where is the WebLearn Survey data stored as I have colleagues who are worried that a commercial tool like SurveyMonkey can potentially cause the data to be compromised?
Answer: The WebLearn Evaluations (Surveys) tool is a Sakai tool and is not under the control of any third party. The survey data is stored locally and managed by IT Services.
Question: Is it possible to spread questions over multiple pages?
Answer: All questions are on the same page by default.
Question: Does closing and re-opening a survey cause any issues for participants (e.g. losing any information already input, not being able to export older and newer information together, sending a 'this survey has closed' notification to people who haven't completed it yet…)?
Answer: In itself, closing and re-opening a survey will not cause any loss of data. Closing the survey will not send a 'survey closed' notification to anyone.  Whenever the results are exported, the data is exported from the opening time to the exporting time. However, you should exercise caution in what you do if you close a survey while it is still active  ̶  just as for a paper-based survey, you would not want to compromise the data collection process in any way. Note that it is possible to 'View Results' while the survey is still active.
Question: Are templates coupled to the surveys they spawn or is creating a survey a one-off exercise? Once a survey is running, does it matter how the base template is modified?
Answer: Once a survey has been created, editing questions in the corresponding template will not affect the survey.
Question: Can I browse individual responses by person so that I can check what they have and haven't answered?
Answer: By default survey responses are anonymous.  This is a common survey practice for various reasons. If you need to identify survey participants, e.g. requirements gathering, you can insert a free text question to ask them to enter their names. When you export the survey results as an Excel or csv file, the data is arranged by participant, with a row for each participant's responses.
Question:In the exported results, what is the significance of the "mean" (average)?
Answer: The "mean" is calculated as a weighted average, with the first scale option worth 1 point, the second scale option worth 2 points and so on.  We agree that the value calculated by the system does not always make sense.  For example, in a 5-point rating scale question, the first scale option is allocated 1 point regardless of whether it represents 'strongly agree' or 'strongly disagree'. We have reported the issue to the Sakai community with a view to improvement.
Tips of conducting a WebLearn survey:
Templates can be transferred to anther WebLearn user (e.g. one of your colleagues)
Think about how to use the survey data when writing the survey questions
A survey also needs to be beneficial to the survey participants
If possible keep the survey short and easy to understand