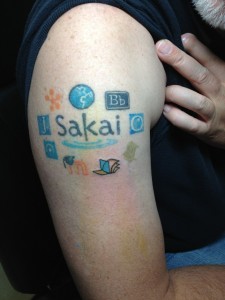 Here's a note I just received from Chuck Severance.
"The first Learning Management System (VLE) in the world to pass the soon-to-be-announced IMS Learning Tools Interoperability Content Item Message spec is Sakai 11.
This means Sakai 11 has formal certification in IMS Learning Tools Interoperability, 1.0 LTI 1.1, LTI 2.0, and LTI ContentItem in Sakai-11."
Chuck is the "guy with the Sakai, Moodle and Canvas tattoos" and has been instrumental in developing the IMS LTI Content Item Message specification and has single-handedly implemented it inside Sakai.
This feature will be available for use in WebLearn 11 from Michaelmas term 2016.
What is IMS LTI Content Item Message?
"Content-Item Message 1.0 is an LTI specification for exchanging content between applications and tools. The types of content which can be shared includes a broad range of types such as static links, embedded images or other media types and files, extending the LTI toolbox and streamlining the process of setting up an LTI tool link.  Content-Item Message enables external (LTI) tools to appear in the same way that internal tools do.  Using Content-Item Message will eliminate a common need for custom integrations." (from https://www.imsglobal.org/specs/lticiv1p0).