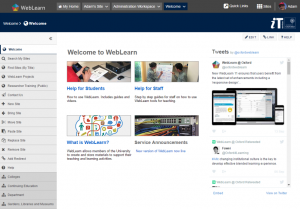 WebLearn was upgraded  to version 11-ox1.1 on 16th September 2016. This release addresses most of the known major issues with WebLearn 11. Please accept our apologies for the inconvenience that these problems may have caused.
The 11-ox1.1 release has addressed a number of issues with the Lessons tool, introduced wider LHS buttons so that labels are no longer truncated, and fixed issues with adding multiple IMS LTI tools, uploading to Resources, Chat and Sign-up. We have also updated WebLearn's content filters so audio and video from podcasts.ox.ac.uk can be embedded on pages.
Some users may experience display issues which can be cured by forcing a page refresh.  For Windows press Ctrl & F5; for Mac/Apple press Apple + R or cmd + R; for Linux press F5. This website will explain in more detail: http://www.refreshyourcache.com/.
If you would like to suggest further improvements then please do so by contributing to the WebLearn User Voice feedback service.
Known Issues
The following are still known to be causing minor problems. We will be addressing these as a matter of urgency and hope to have fixes in place by the start of term (or very soon after).
the Contact Us tool is missing from most sites – now fixed
the Site Icon is now a little oversized – now fixed
images, tables and iframes when added via the HTML WYSIWYG editor are non-responsive, i.e. they do not shrink when viewed on a mobile
some HTML tables ignore the 'cellpadding' and 'cellspacing' attributes – we will address this as soon as possible
some pages, for example, Choose Login Route and Validate Your Account, do not yet display the WebLearn logo
There are also some known issues that only affect WebLearn when used on a mobile phone and these will take slightly longer to fix, one example is that some of the less well-used tools (for example, Tests and the Researcher Training Tool) are not yet optimised for small-screen usage.
In addition, Windows 10 seems to have a problem with its WebDAV implementation. When trying to map a network drive to a WebLearn site, it occasionally reports a "Network Error". The problem is not apparent when using a dedicated WebDAV client such as Cyberduck (which can be downloaded free of charge) so we would recommend this approach to all Windows 10 users. All other versions of Windows seem to work without issue.
Full List of Changes
If you would like more details about these changes then please contact the Service Desk.
Lessons Tool

images and videos are now responsive when added to a Lessons page using the "Embed" option – note that images inserted via the WYSIWYG HTML editor do not yet shrink on a mobile phone
the problems with content not being saved to a page have been fixed
version information has been added to all JavaScript and CSS references which should stop problems with cached pages
it is now possible to embed a Resources folder listing
embedded Announcement and Forums summaries now display better
the "back" and "next" buttons are now present

Navigation

tool and sub-site labels are no longer truncated in the LHS menu and display better on a mobile phone
the LHS sub-site labels are now removed when the menu is collapsed and fly out upon mouse-over

Others

the Site Members tool now has the correct name and doesn't give an error if you are not logged in
service-wide announcements no longer obscure the screen on a mobile
chat now displays correctly when the transcript contains a hyperlink
the problems which prevented participants with the 'access' role from uploading into Resources have been fixed