At the start of December we added a new personalised dashboard that displays a personalised list of all your sites / courses containing 'Recorded Lectures'.
To access your dashboard you must first login to WebLearn, click on your avatar at the top right of the screen and click on 'Recorded Lectures' – this is the same whether on a desktop, mobile or tablet. (You can set your avatar photo by clicking on Profile in this same menu.)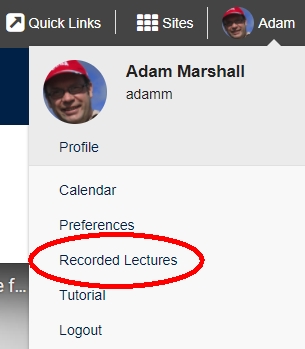 The next screen will display your dashboard – it may take a couple of seconds to load depending on how many sites you belong to.
The dashboard will show a list of site titles which, if clicked, will take you to the site's Overview page. (Note that you must be a member of a site for it to display in the list.)
The dashboard may also show a direct link to the 'Recorded Lectures' within a site. Click on this link to display a list of all the recordings for your course. Note that this will open in a new browser tab.
Unfortunately it is not currently possible to highlight which of your sites contain newly uploaded videos. We realise that would be very useful but it is not currently technically possible.
We hope you will find it useful to be able to access all your existing recorded lectures via this dashboard.